Dear Midnight Elegance Brides;
Welcome back! At long last we are back in our favourite place doing what we do best- helping you find your dream dress… and we couldn't be happier about it!
With so many amazing stylists, designers, creatives and makeup artists here in the North-East of Scotland, we are desperate to showcase the wonderful work of Aberdeen and Aberdeenshire's bridal suppliers. Today, we are delighted to share with you an exclusive guest blog from our incredibly talented, award-winning bridal hair stylist Gemma Taylor.
After training at the Toni & Guy Academy in London, Gemma has been mentored by some of the world's most celebrated hair stylists. Throughout her career, Gemma has worked across Aberdeen's leading hair salons before discovering her calling as a bridal stylist six years ago. 500 bridal parties and goodness knows how many hairstyles later, we are huge admirers of Gemma's imagination and flair.
When Gemma isn't making brides look and feel fabulous, she spends her days with her husband playing with their gorgeous puppy Willow. Gemma's newest venture has seen her developing an education programme for aspiring occasion stylists which is set to debut later this year!
As you know, our specialty here at Midnight Elegance is dresses, so, we've asked Gemma to guide us on which hair styles would be the perfect match for your gorgeous gown. While Gemma stresses there are no boundaries, she certainly does provide helpful tips and advice to get you started. Over to Gemma to talk you though all things chignons, textured braids, bouncy blow-dries and pony tails for your special day.
I've been missing weddings like crazy but this time out has had its benefits – I'm feeling super refreshed and inspired and buzzing to see all my lovely brides! Something I've really enjoyed seeing, although it's been bittersweet, is how postponed wedding couples have managed to mark and celebrate their original wedding day. The photos and videos that I've seen have been really heart-warming and the creativity and resilience that these couples have shown, managing to remain positive in the face of what must have been crushing disappointment has been amazing. Your day is coming guys, and it'll be all the more fabulous for the wait!!
The lovely Kathy at Midnight Elegance asked me if I'd like to write a little blog for her about bridal hairstyles in relation to The Dress. Now, I've never written a blog (or anything, really) before so grab a cup of tea and a biscuit and I'll do my very best to put on paper what goes on in my head during a bridal consultation….
Rule number 1 – There are no rules. If you fell in love with that lacy, high-necked gown but you just feel all kinds of wrong with your hair in an updo, that's fine. We'll make it work. Rules are meant to be broken, right? But these are my general guidelines when deciding how to wear your hair with certain necklines and silhouettes.
STRAPLESS
This is an 'anything goes' neckline. Whether you want to go for a big, bridal bun to show off your neck and shoulders or loose tumbling waves, it'll work. Hair that is bra-strap length or above can give an illusion of width to a straight-across strapless back, so if you don't have the length to cover the fabric, consider some clip in hair extensions for extra length.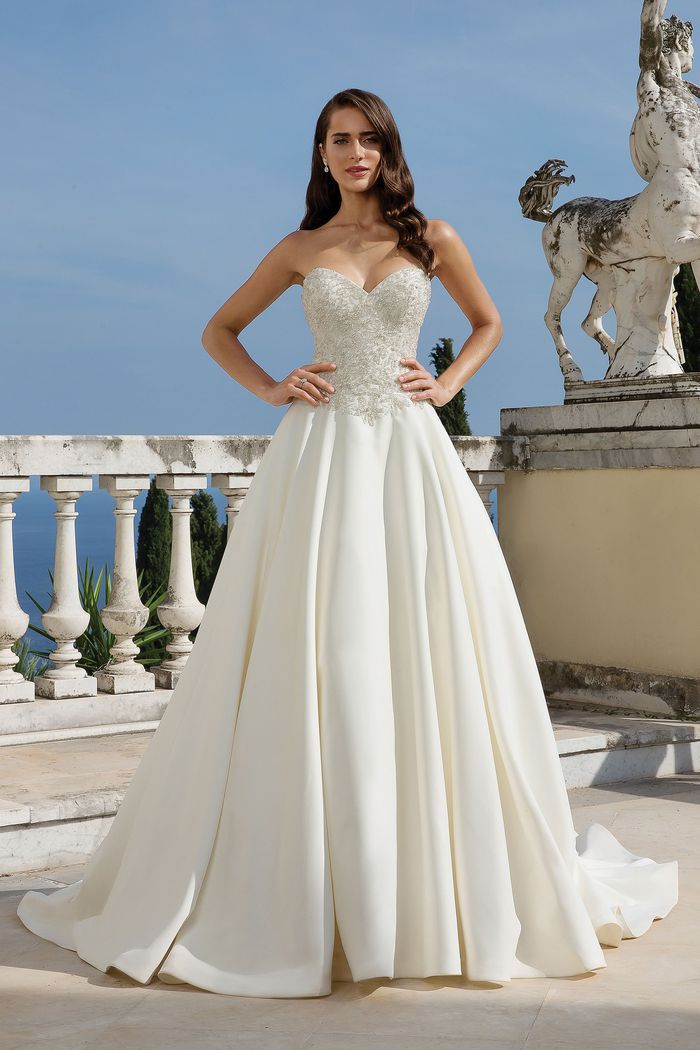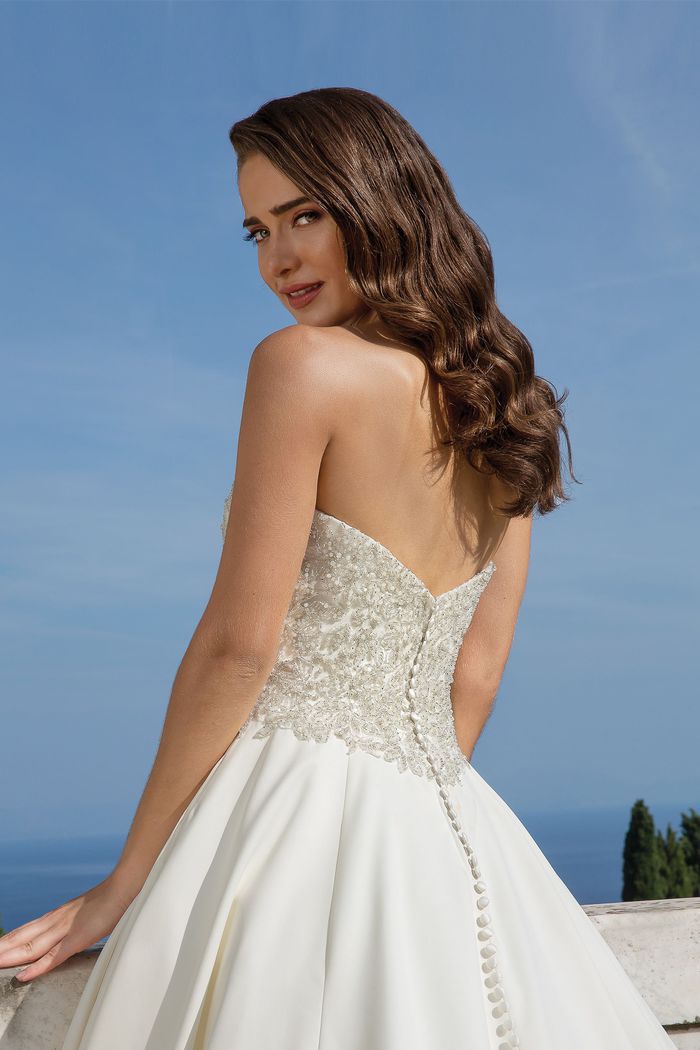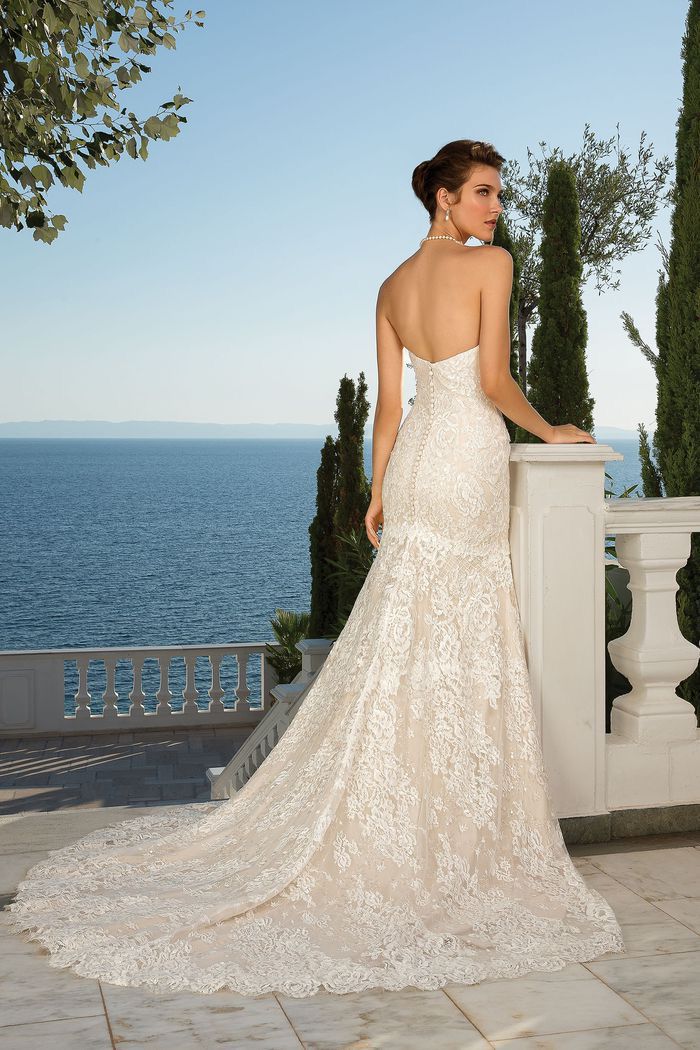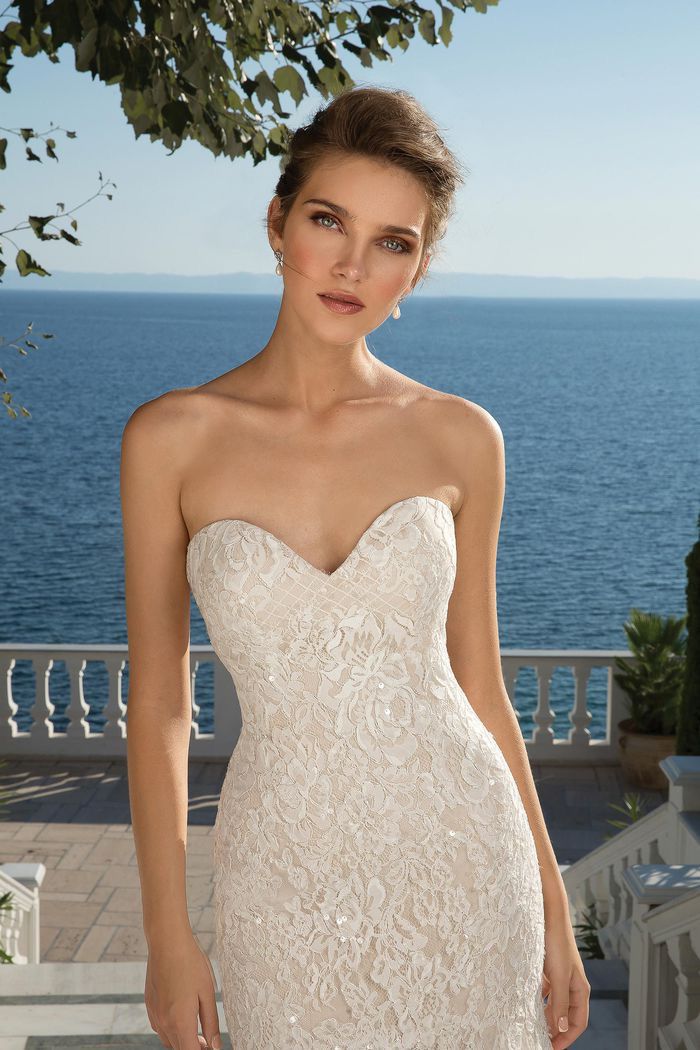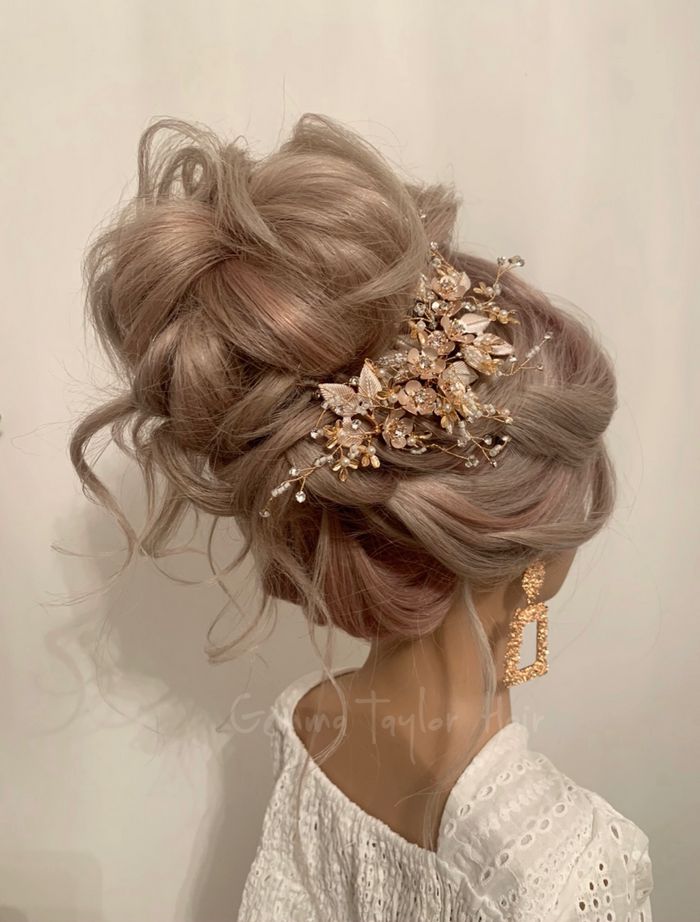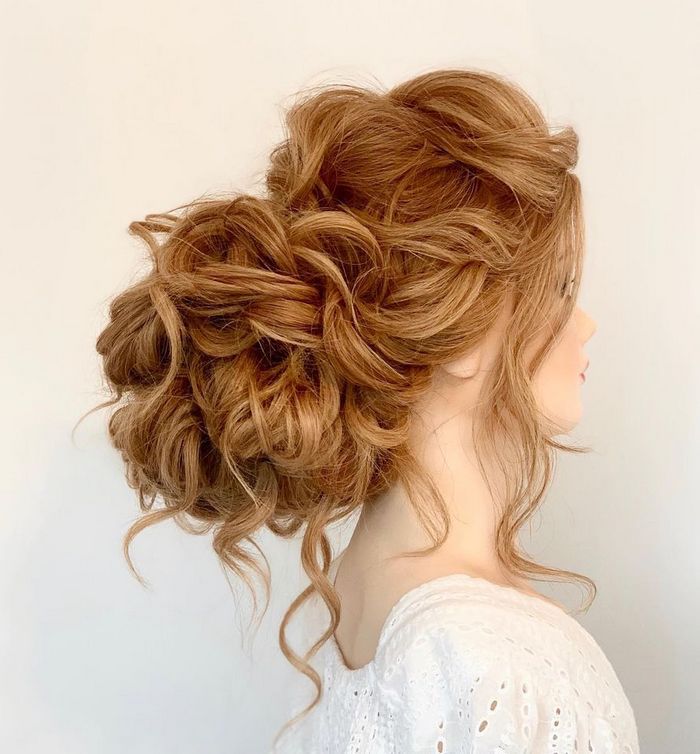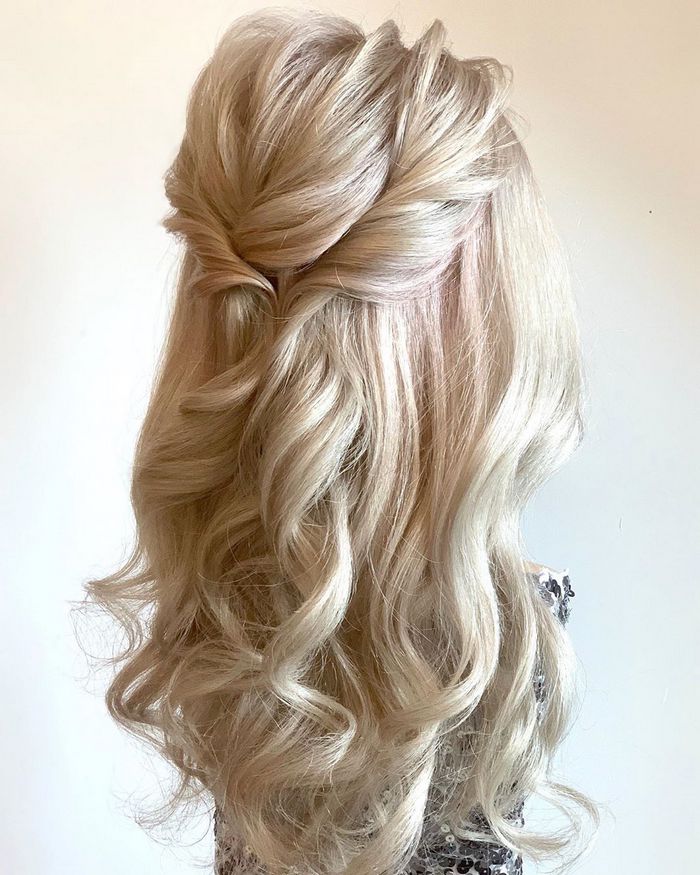 OFF-SHOULDER
You chose an off-the-shoulder look for a reason…. To show off those shoulders! So for this style hair should be pulled back off the face and collar bone. My go-to styles would be a glam ponytail, a low classic chignon or a half-up style with the hair falling down the back, but off the face. If you feel exposed with your hair off your face, just keep out a few loose face-framing tendrils.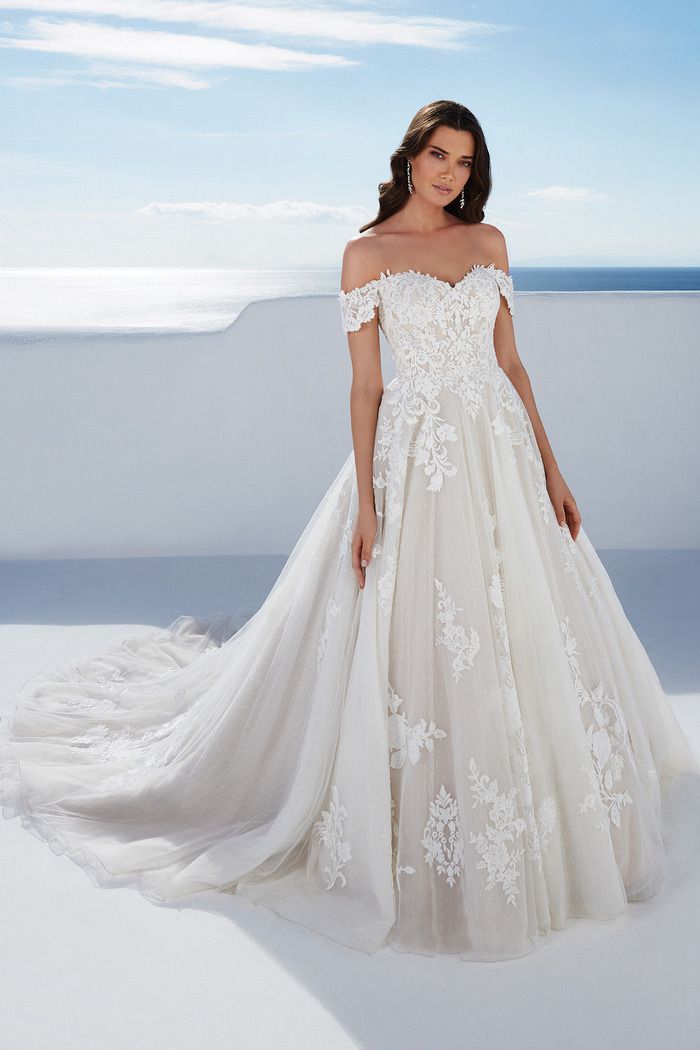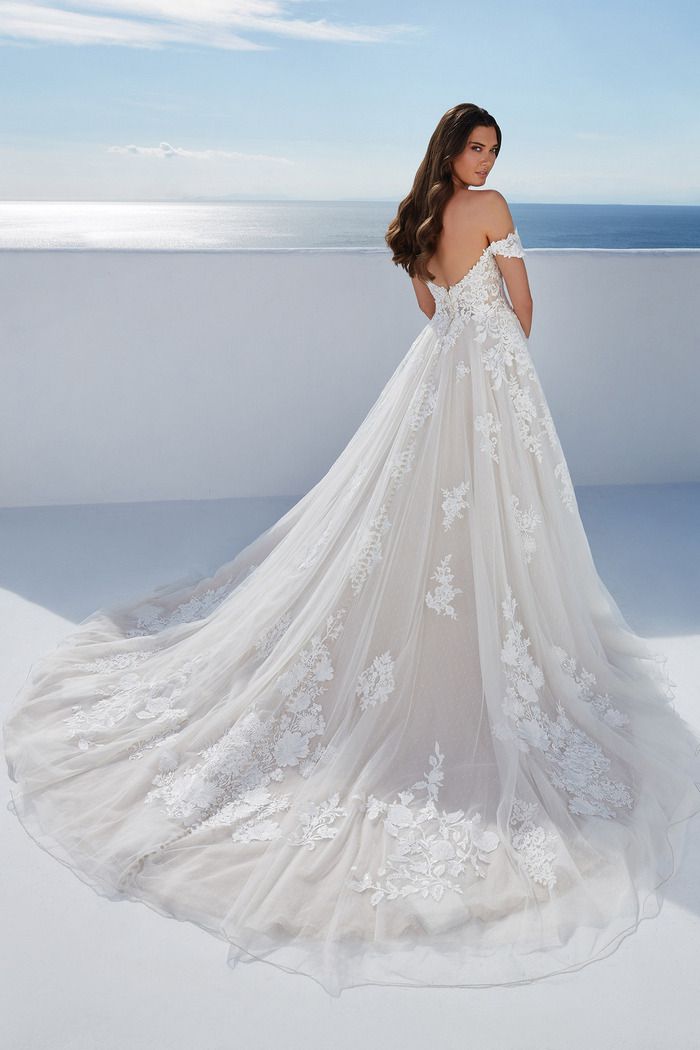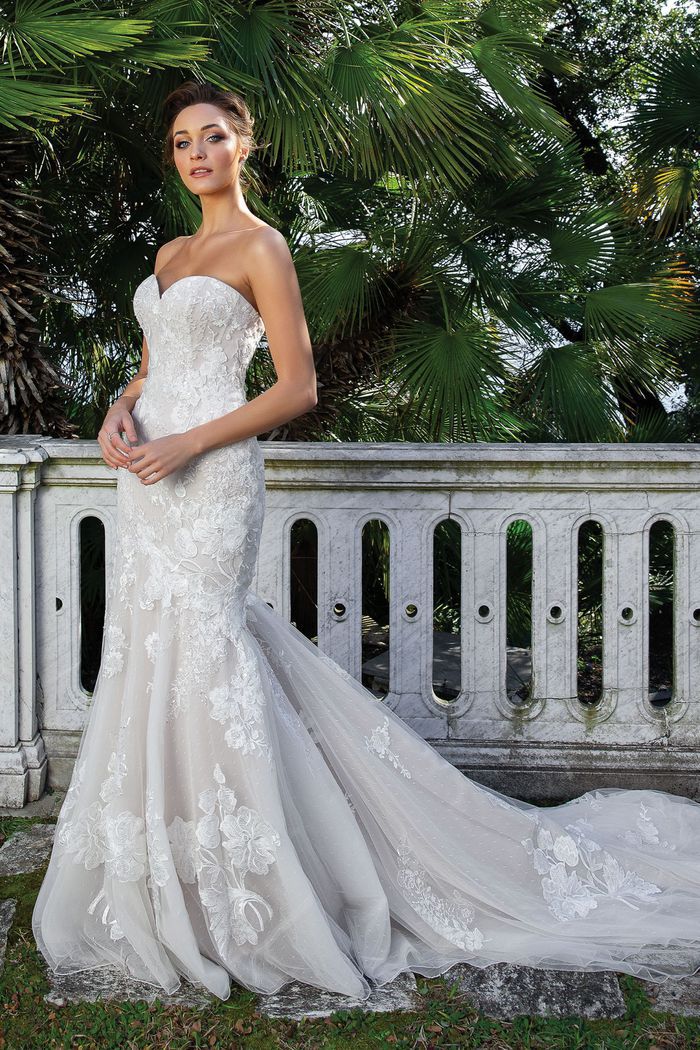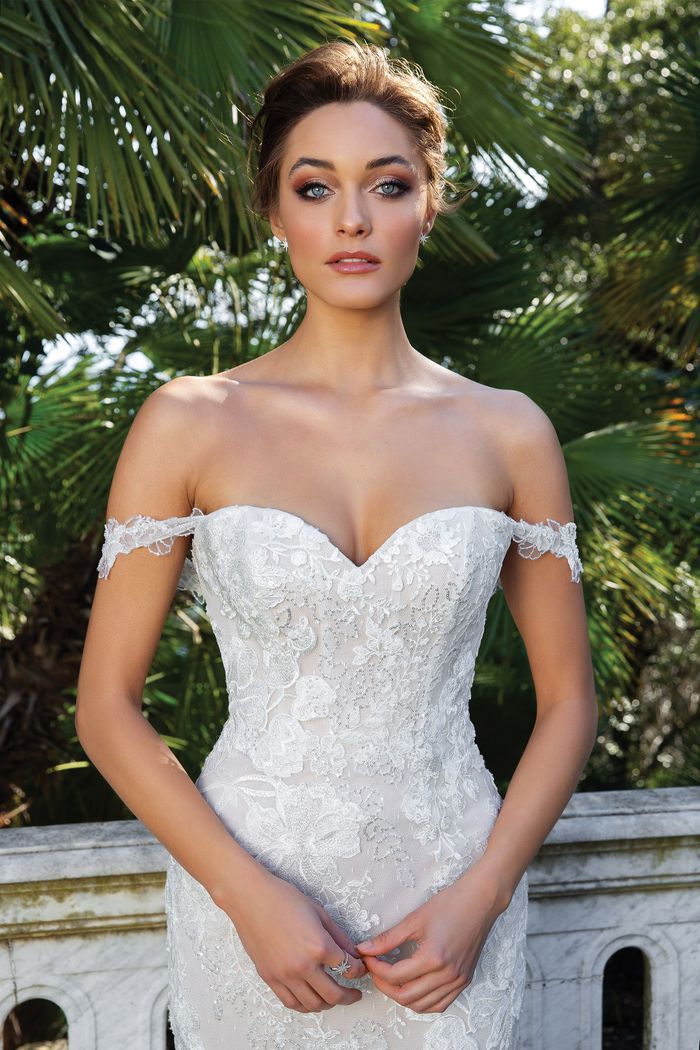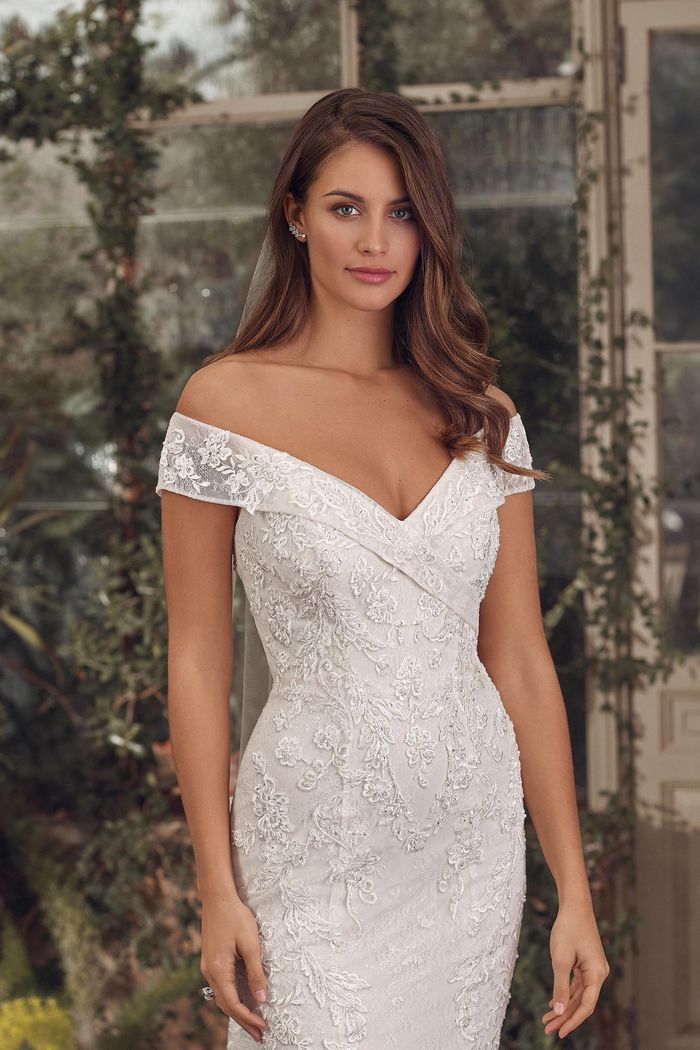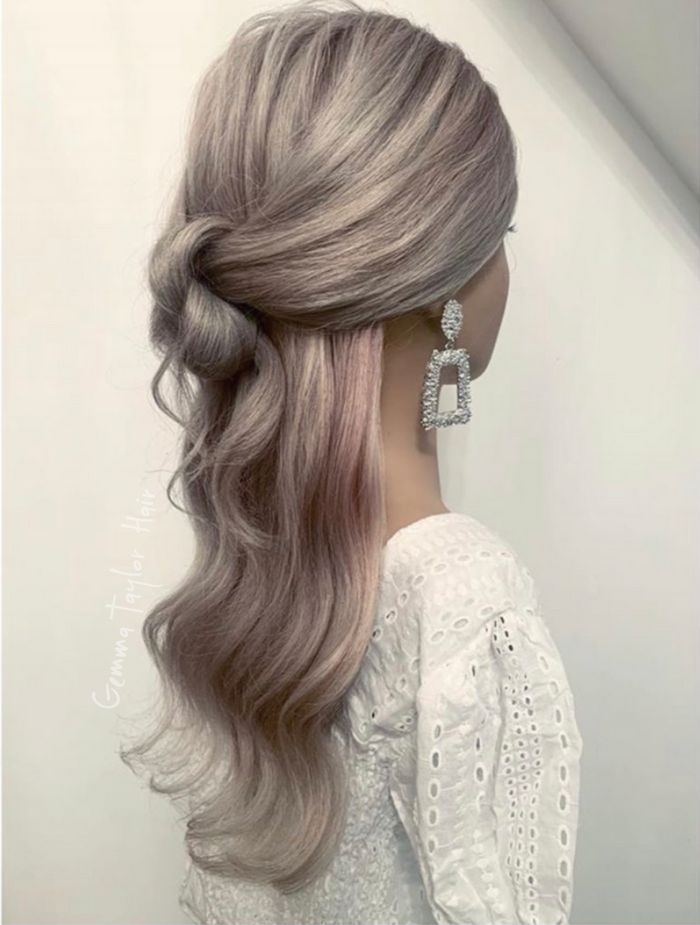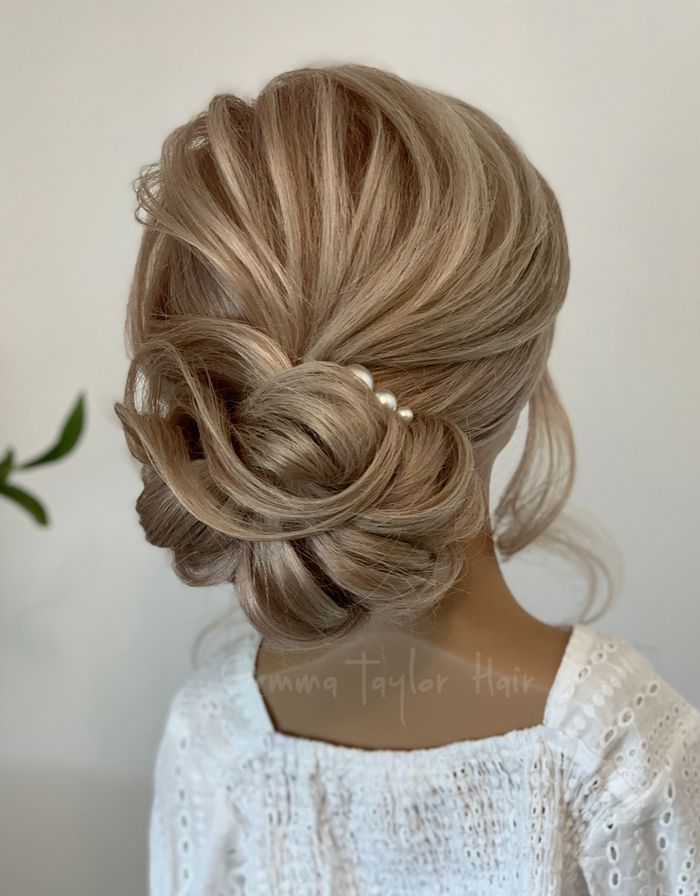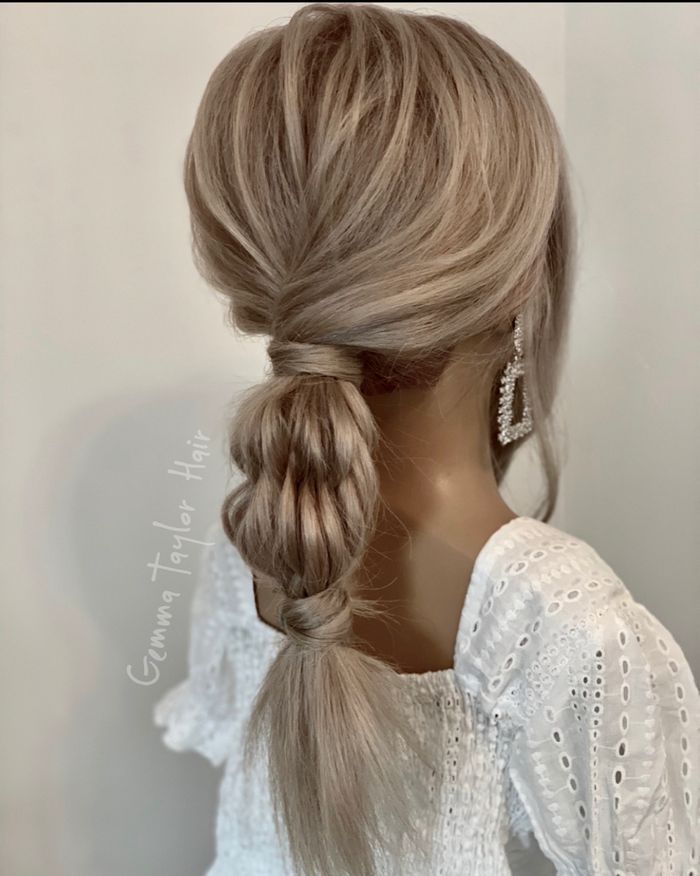 OPEN BACK
You're bringing sexy back… so show it off! An updo or a big textured braid over a shoulder will look amazing with this style of dress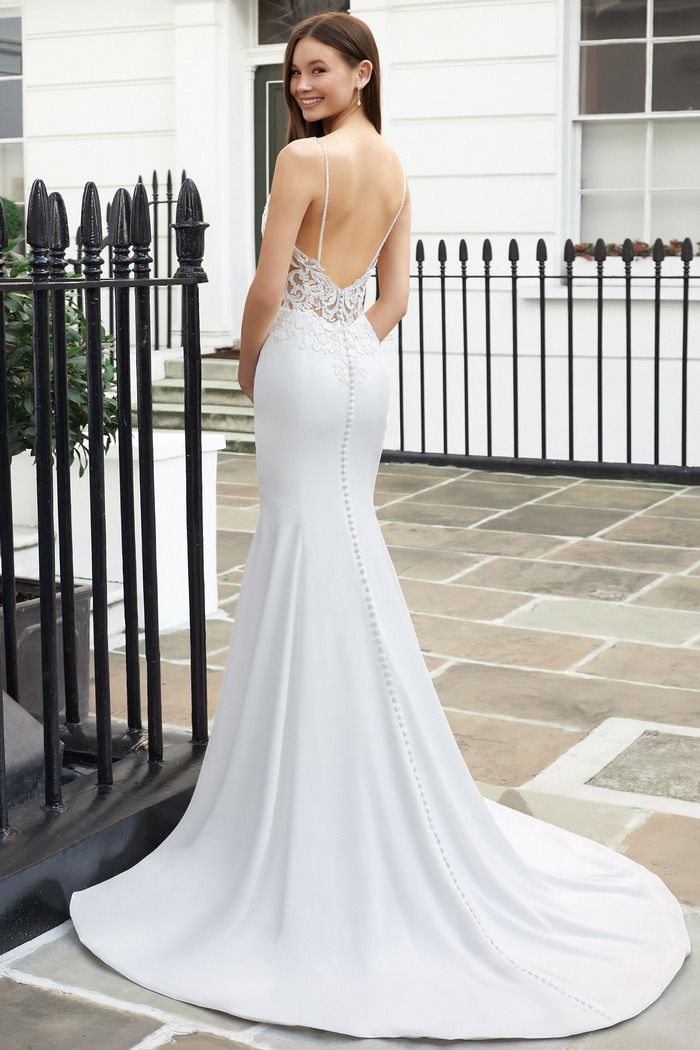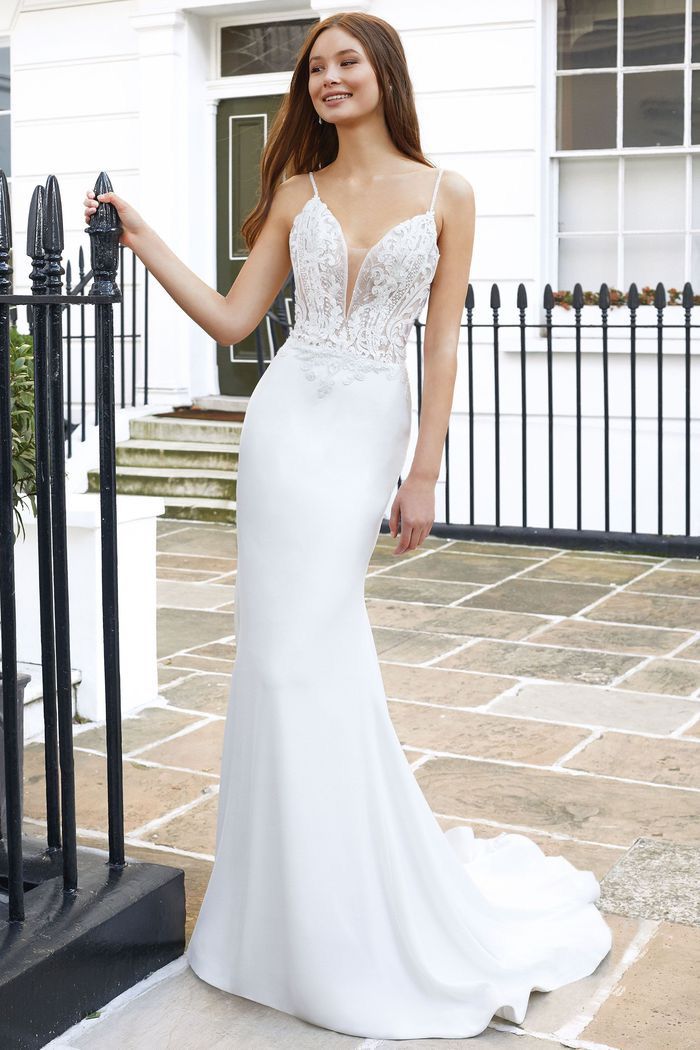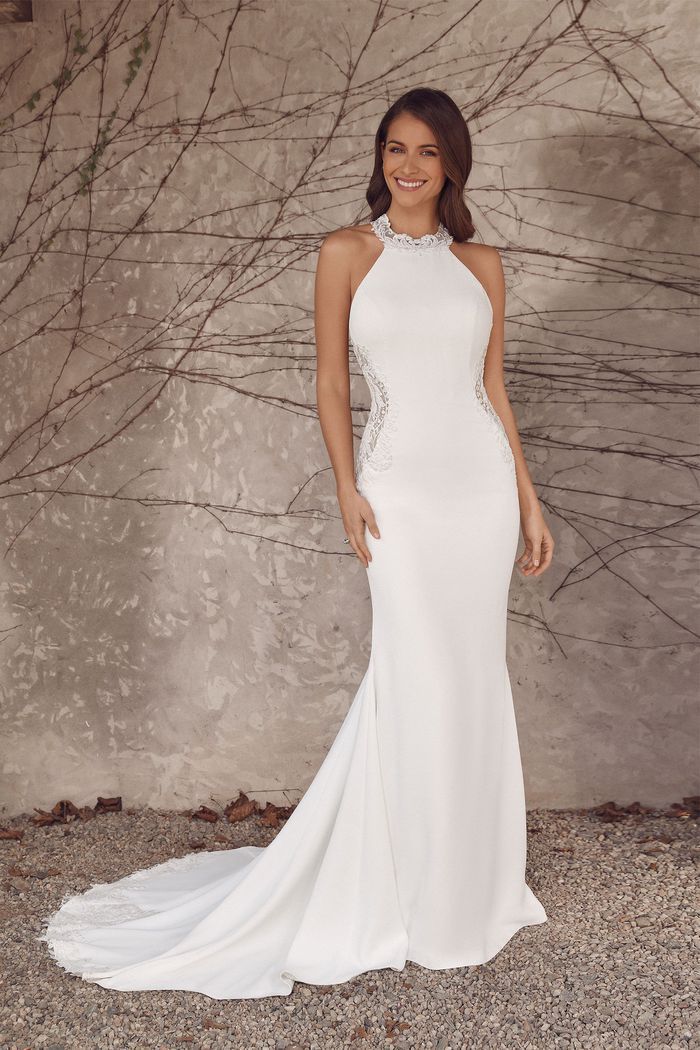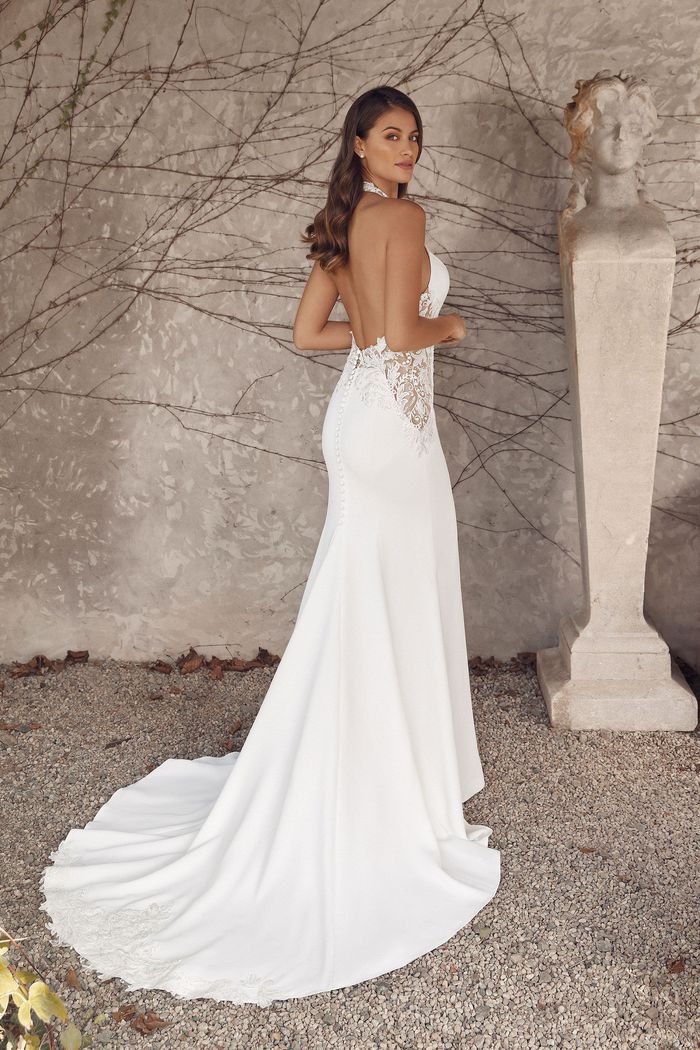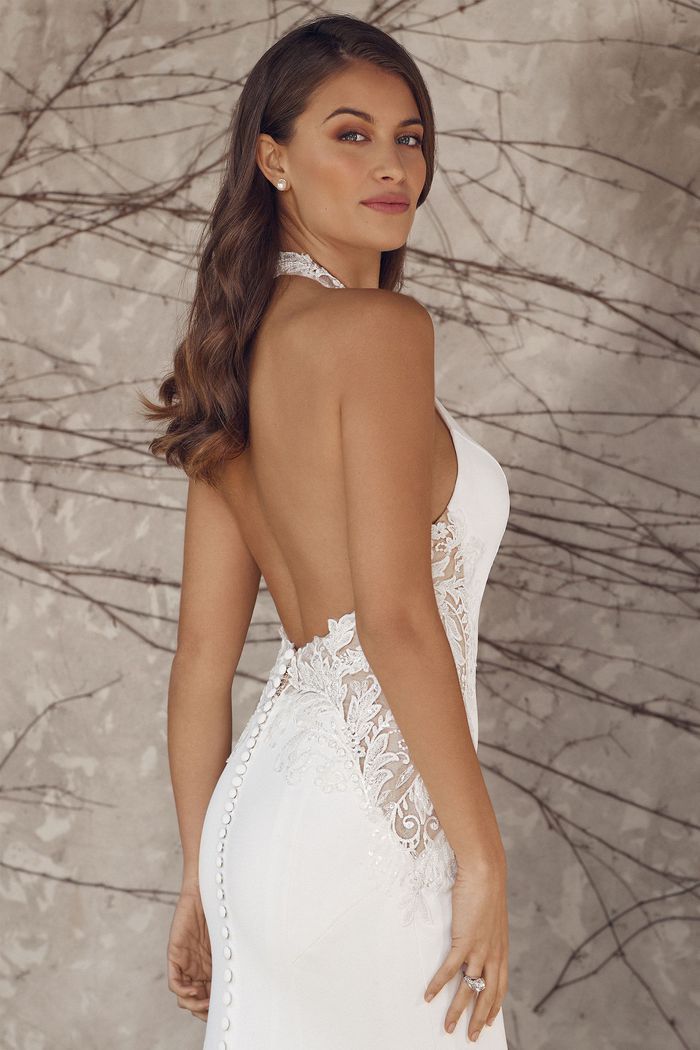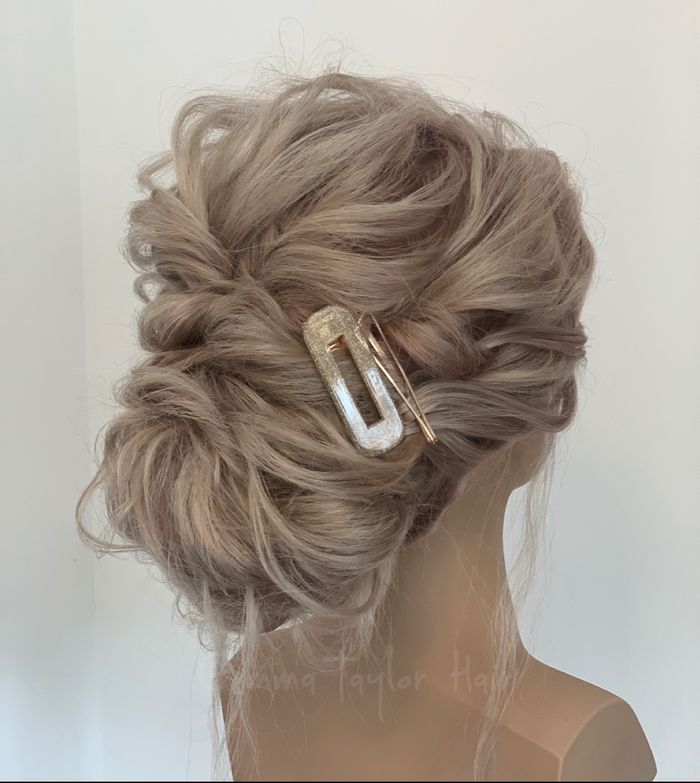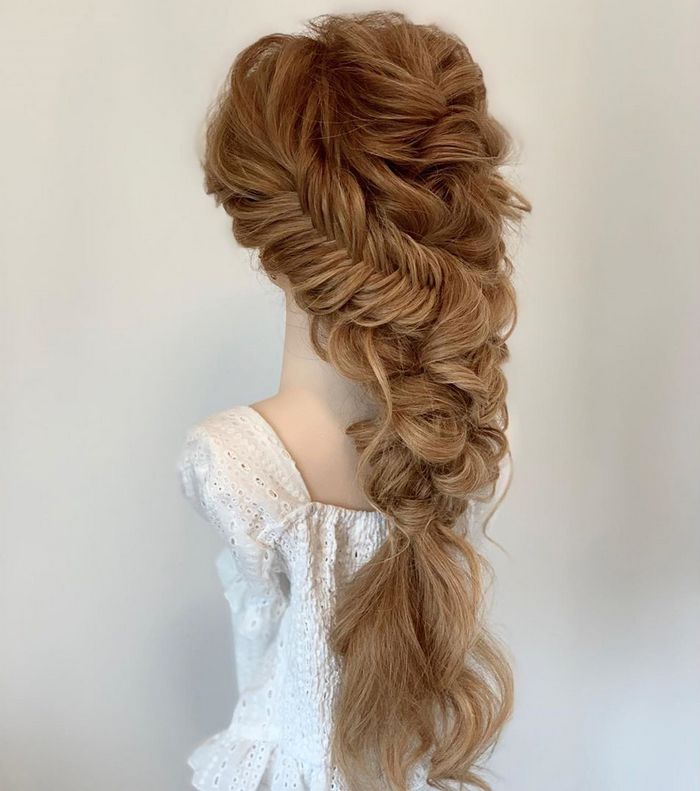 DRAMATIC BACK
If your dress is classic in the front, party in the back you don't want hair covering all that gorgeous detail. A low updo keeps a feeling of classic romance, while a high, elaborate updo elongates the neck and adds even more glamour.
BOAT/BATEAU NECK
Embrace your inner Meghan Markle and scoop your hair up to elongate the neck and show off those collarbones… a low chignon or high ballerina bun looks elegant and timeless, while a ponytail will keep it looking fun and modern.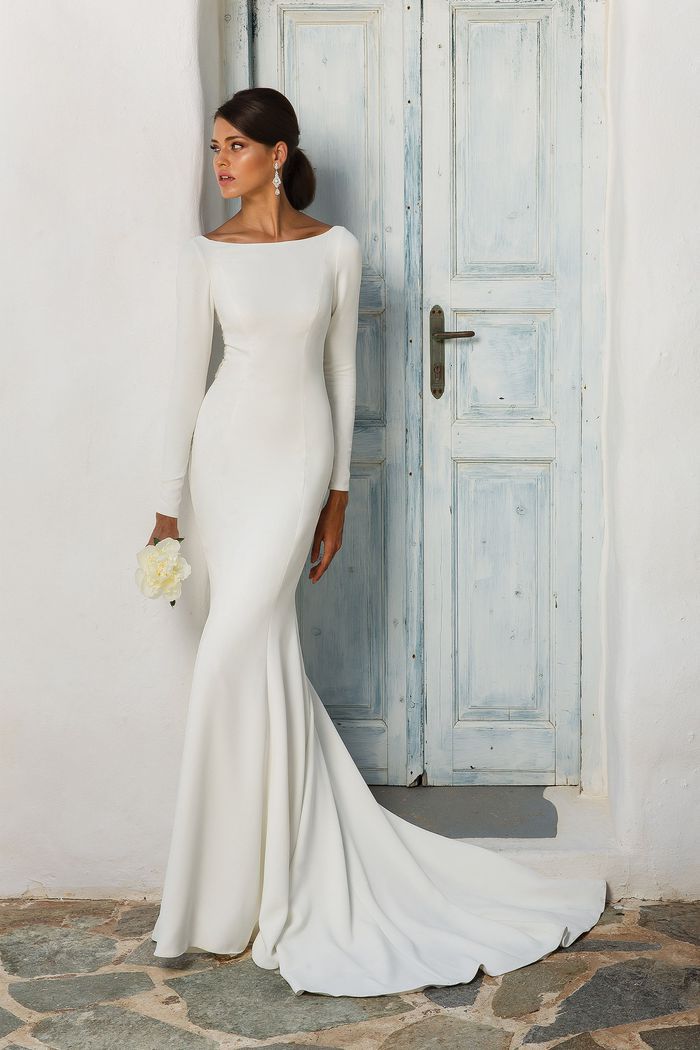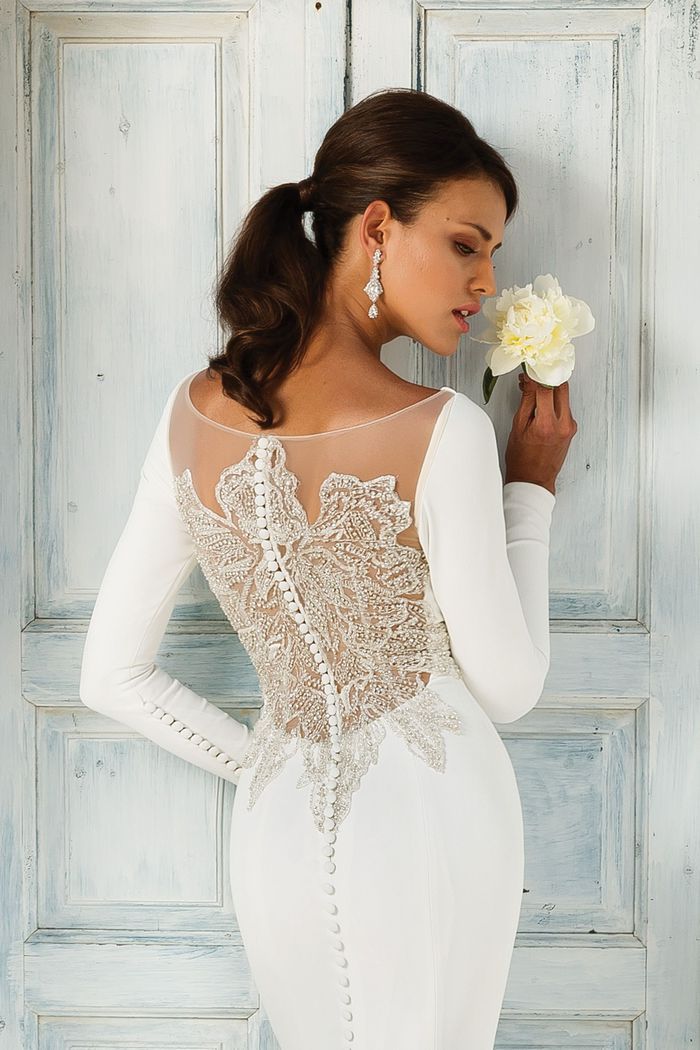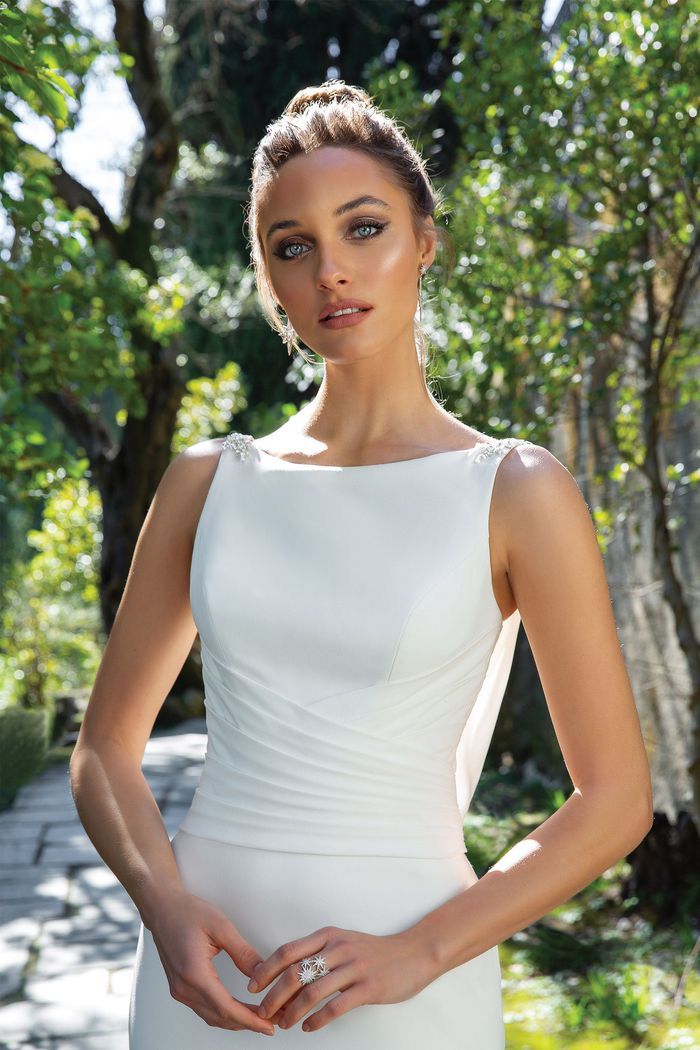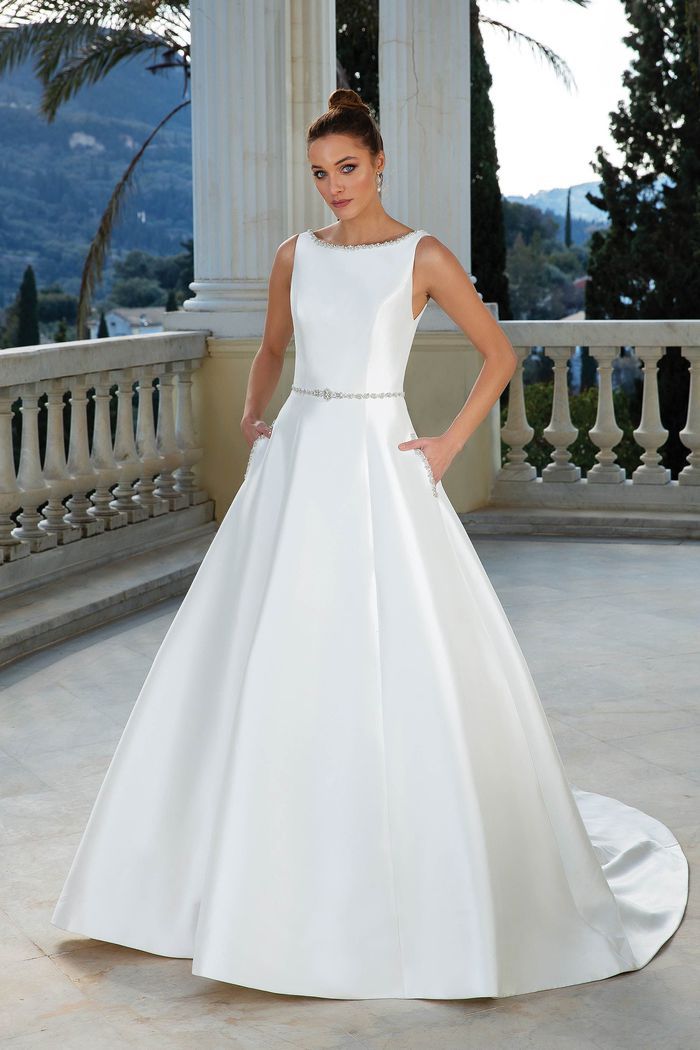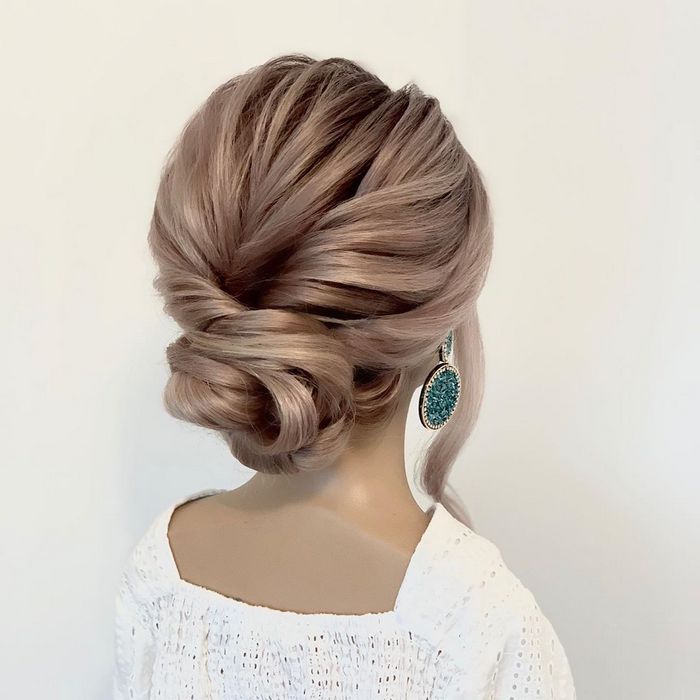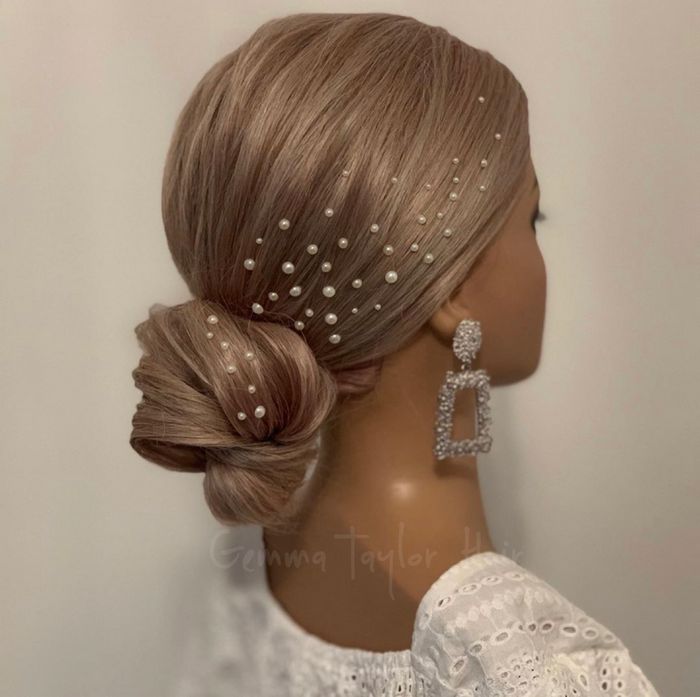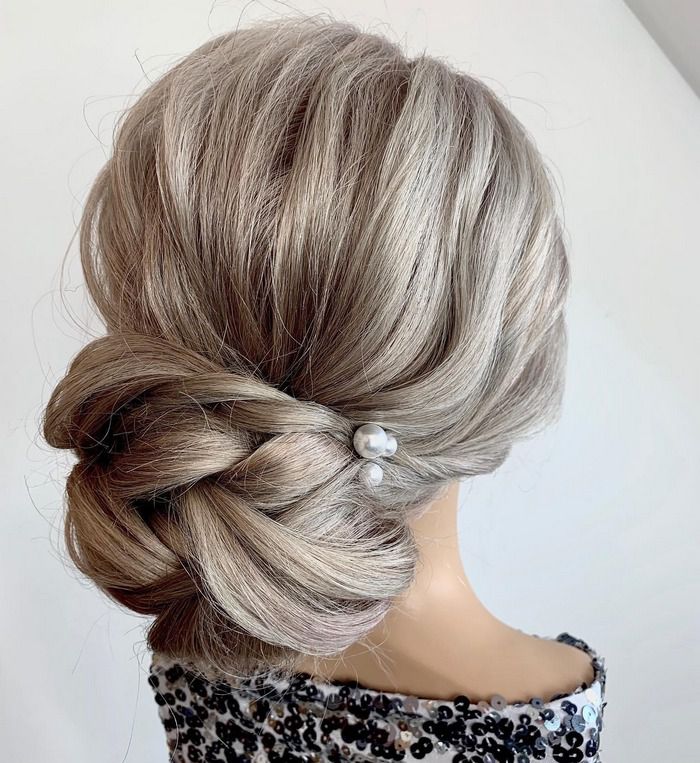 V NECK
Another 'anything goes' – just keep hair away from the neckline. Personally I love a classic wave with a deep side parting pulled back with a sparkly accessory: think classic Hollywood.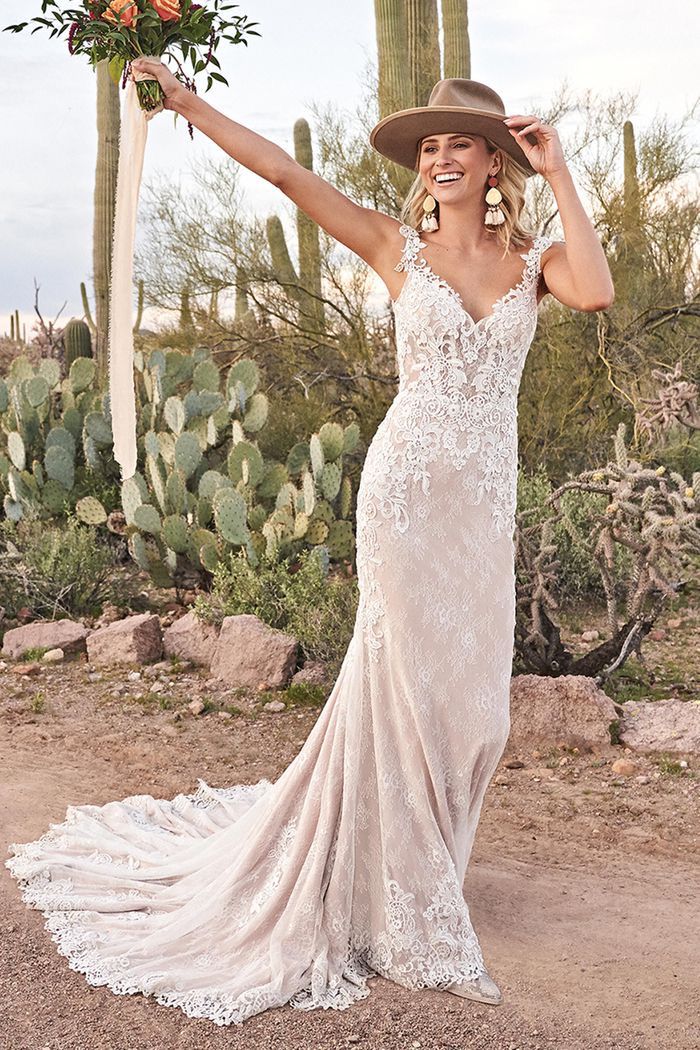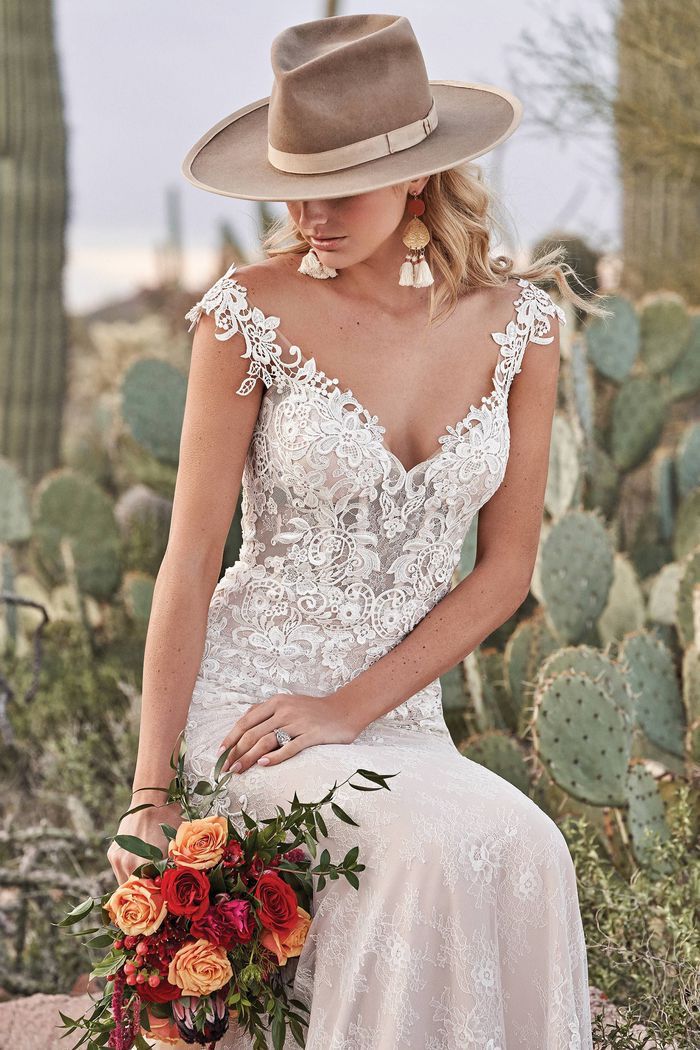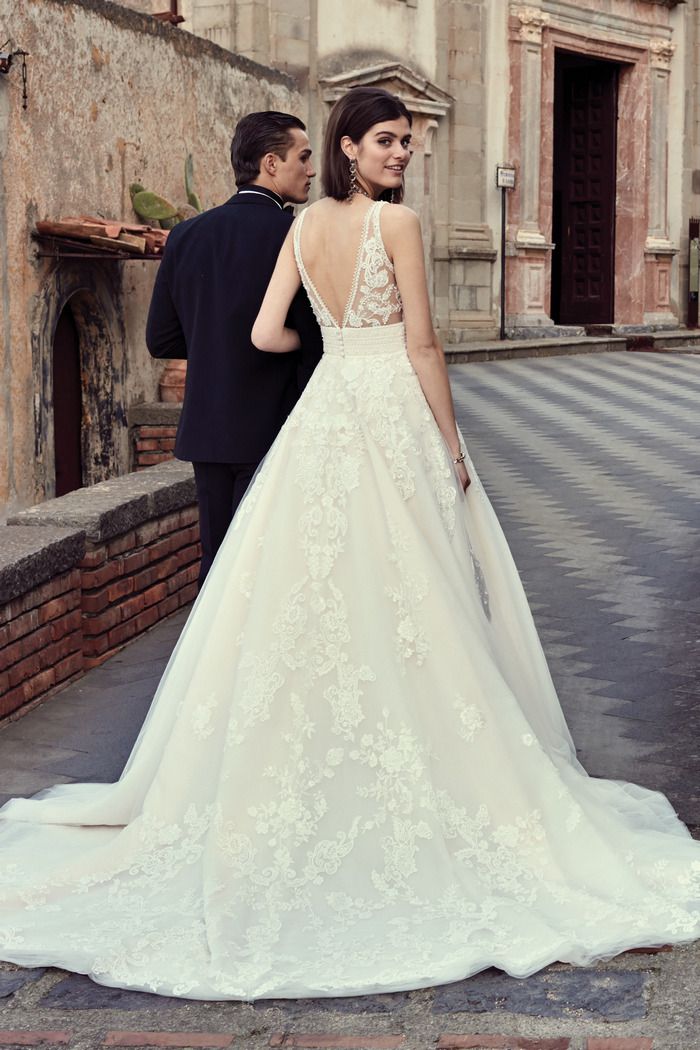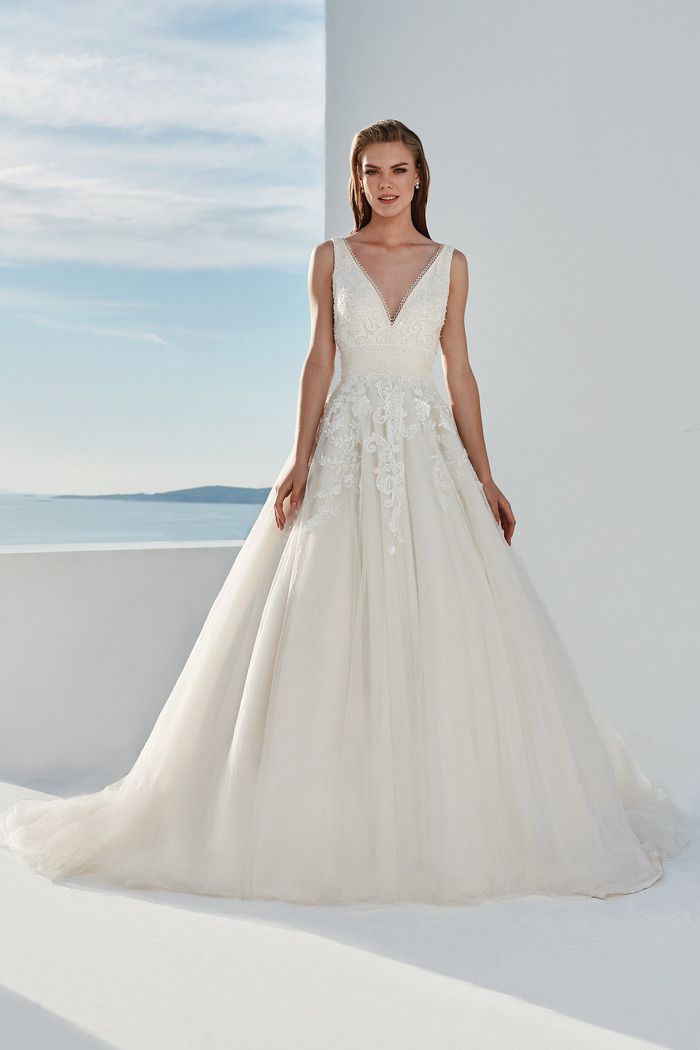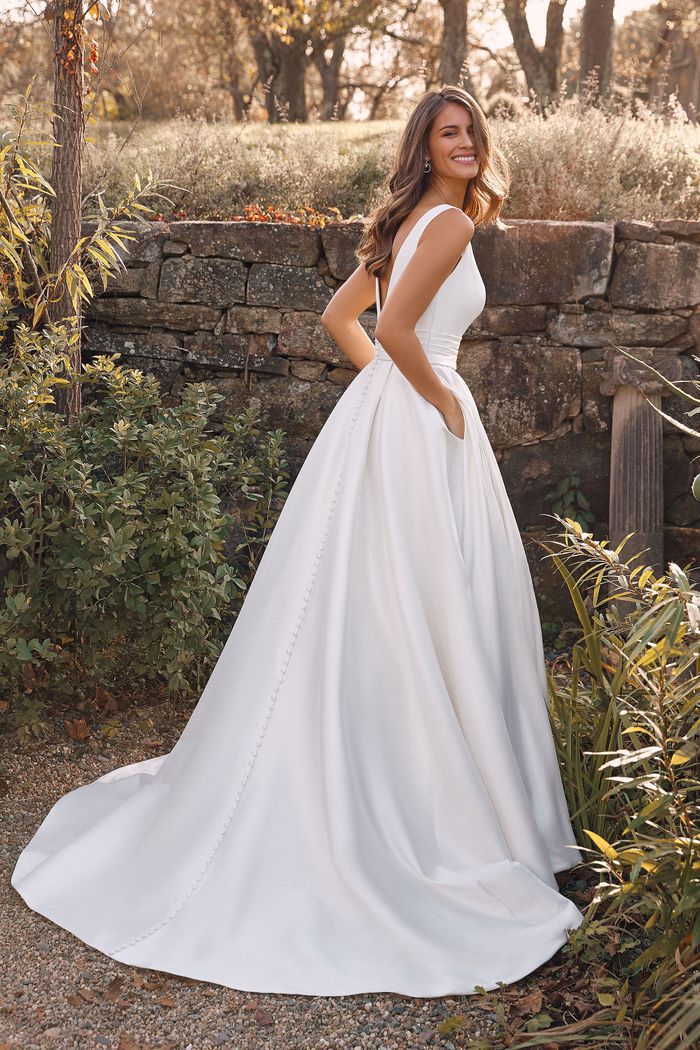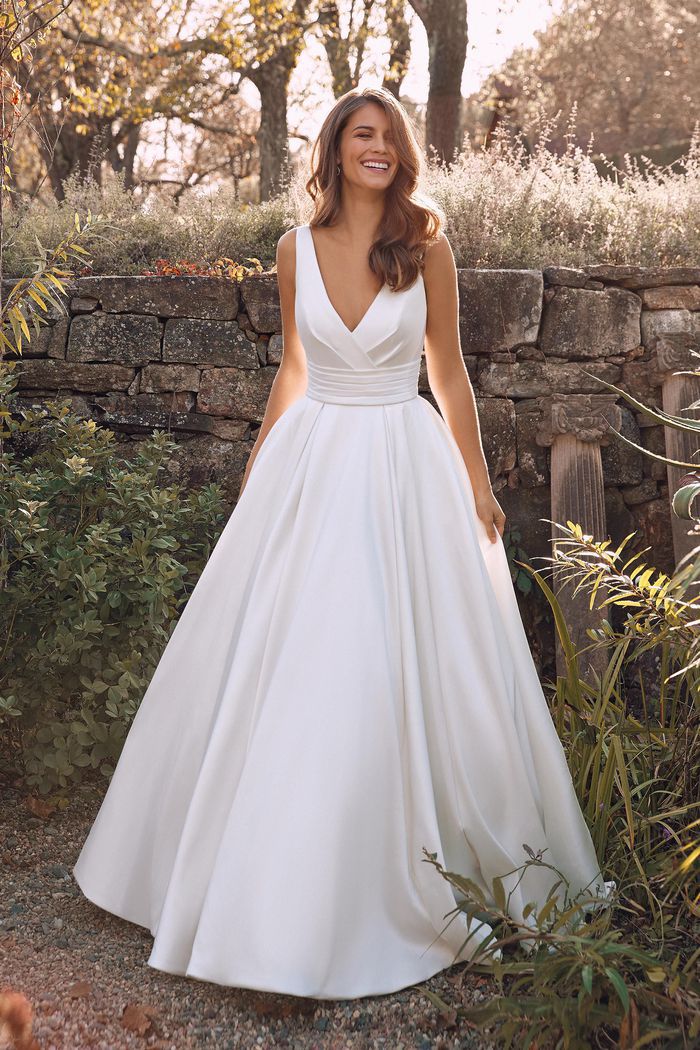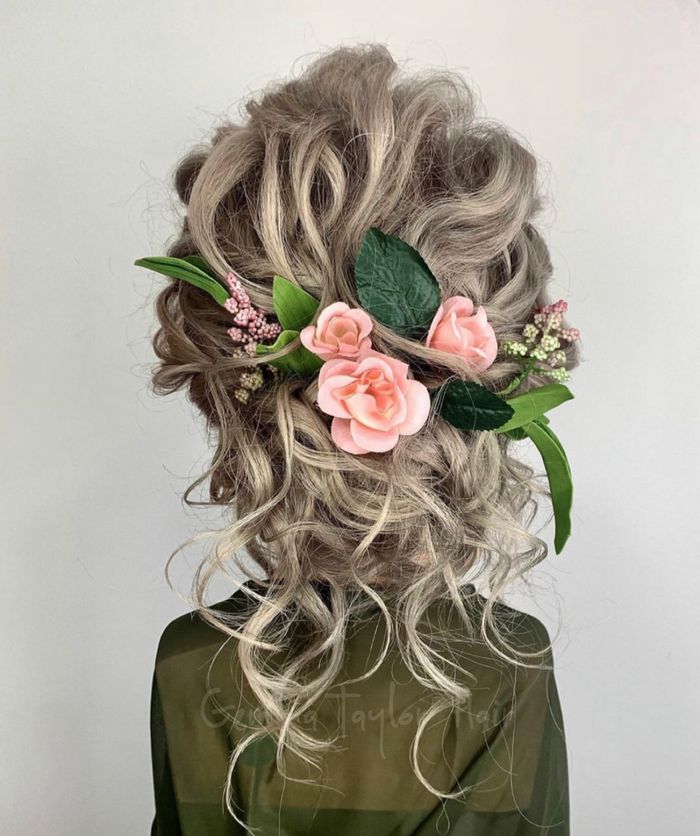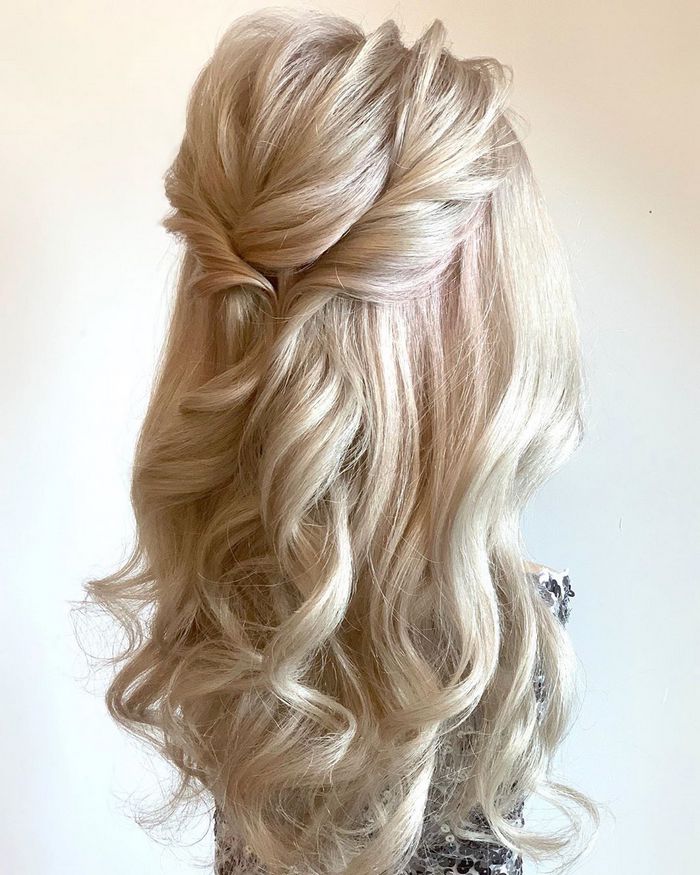 HIGH NECK
High neck dresses are crying out for an updo. Consider the fabric and style of the dress – if it's a beautiful detailed lace full sleeve number you might want to add height rather than width with your hair, with some hair lifted from your face in a soft quiff. A sleeveless or halterneck design can look fabulous with hair tumbling down your back: Just keep the majority of the hair off your face and neckline.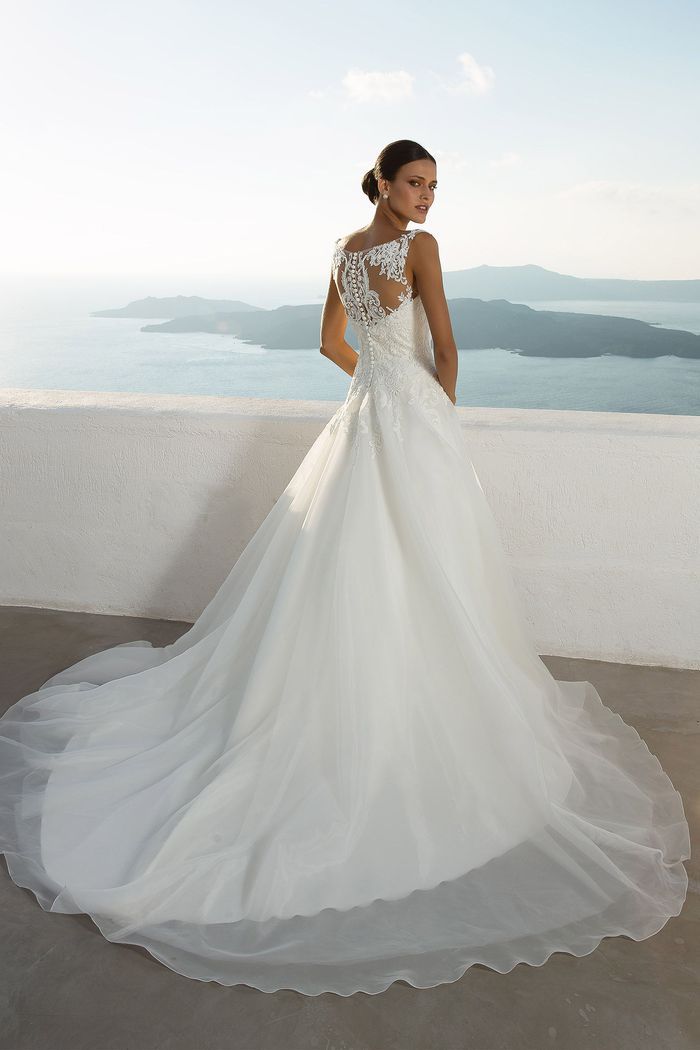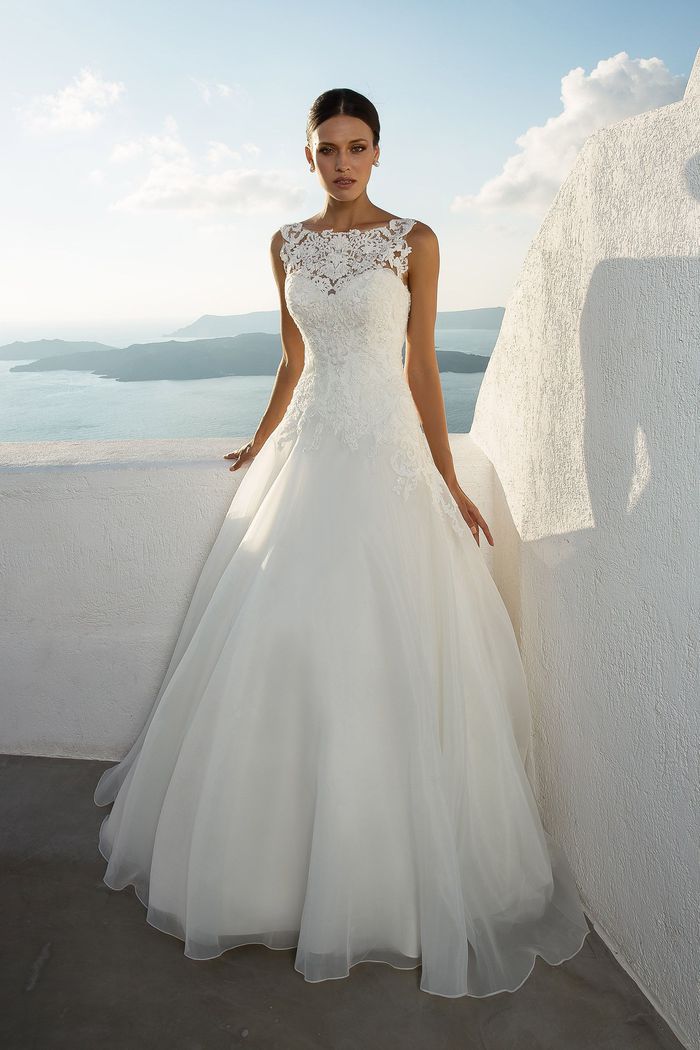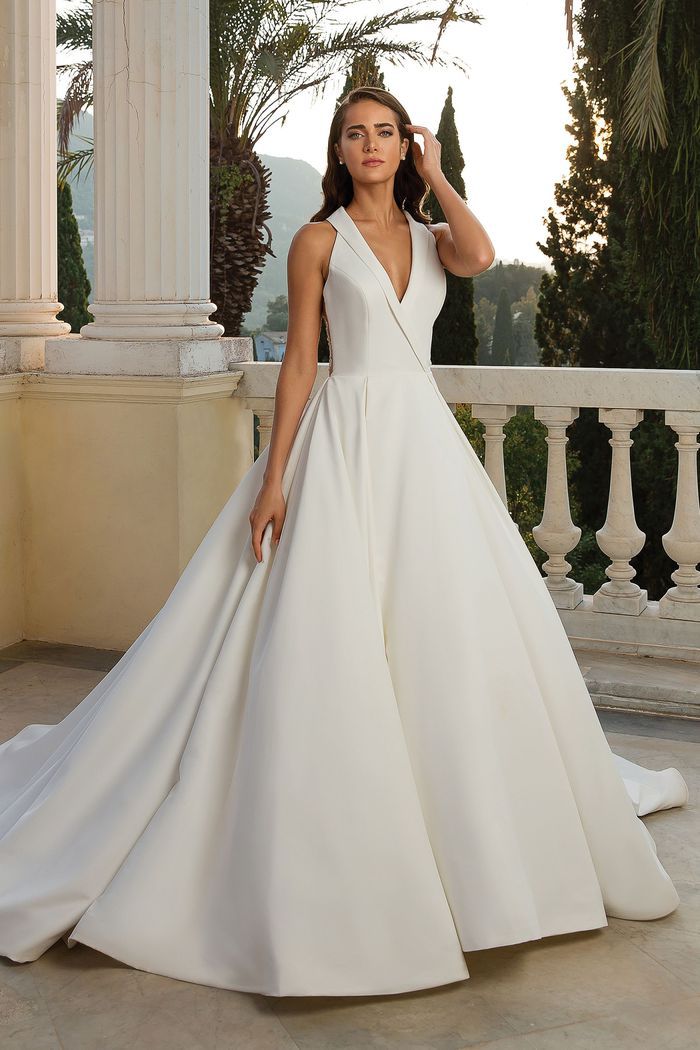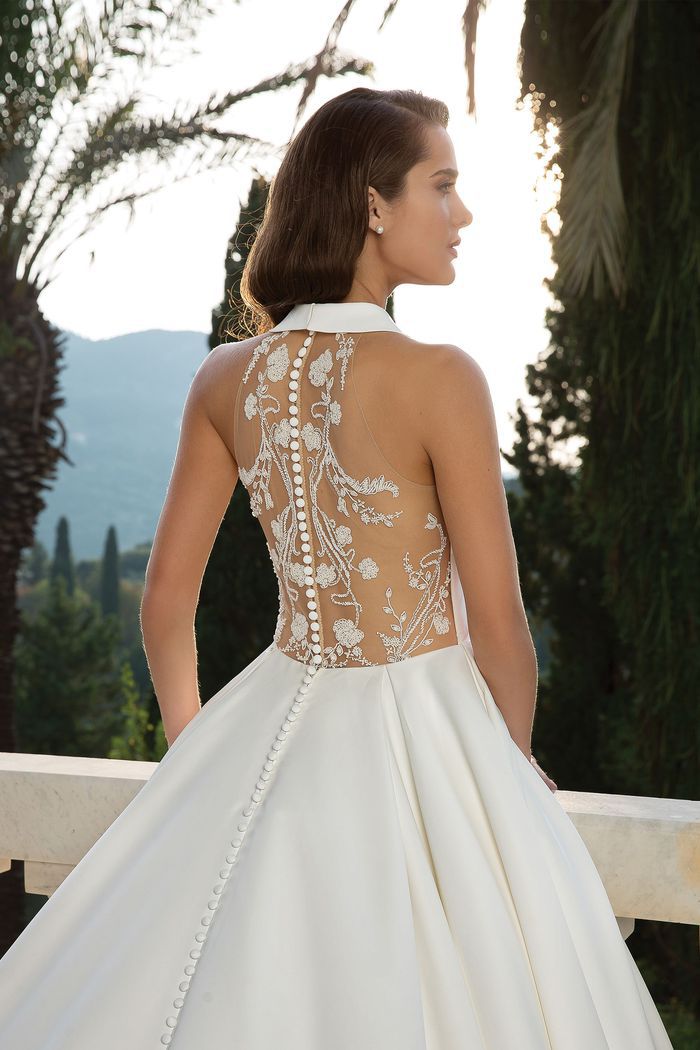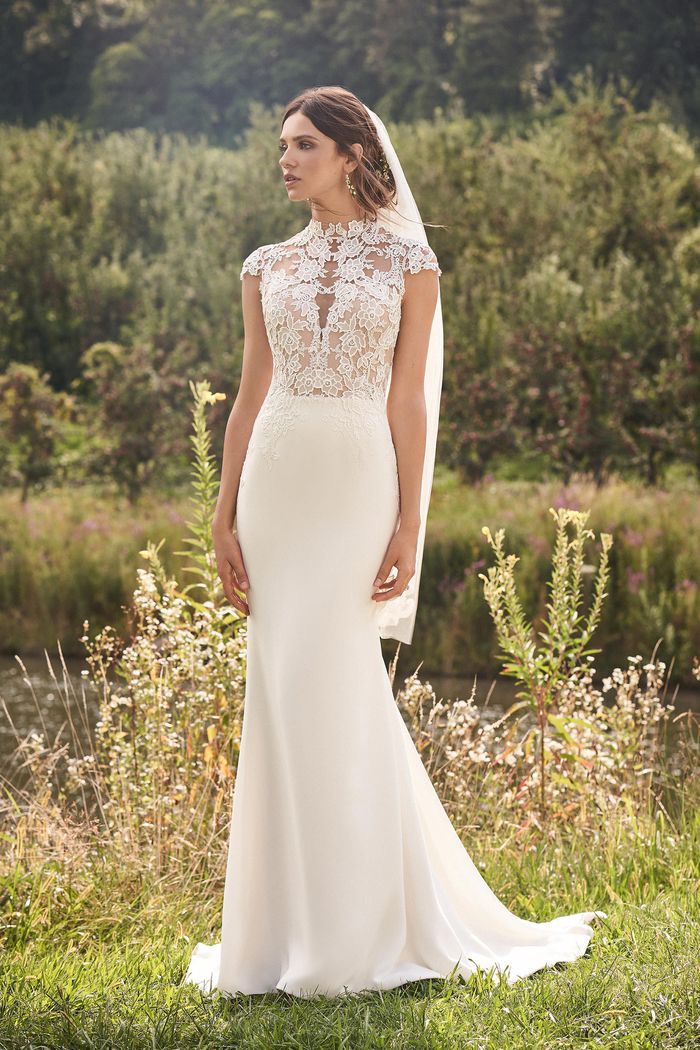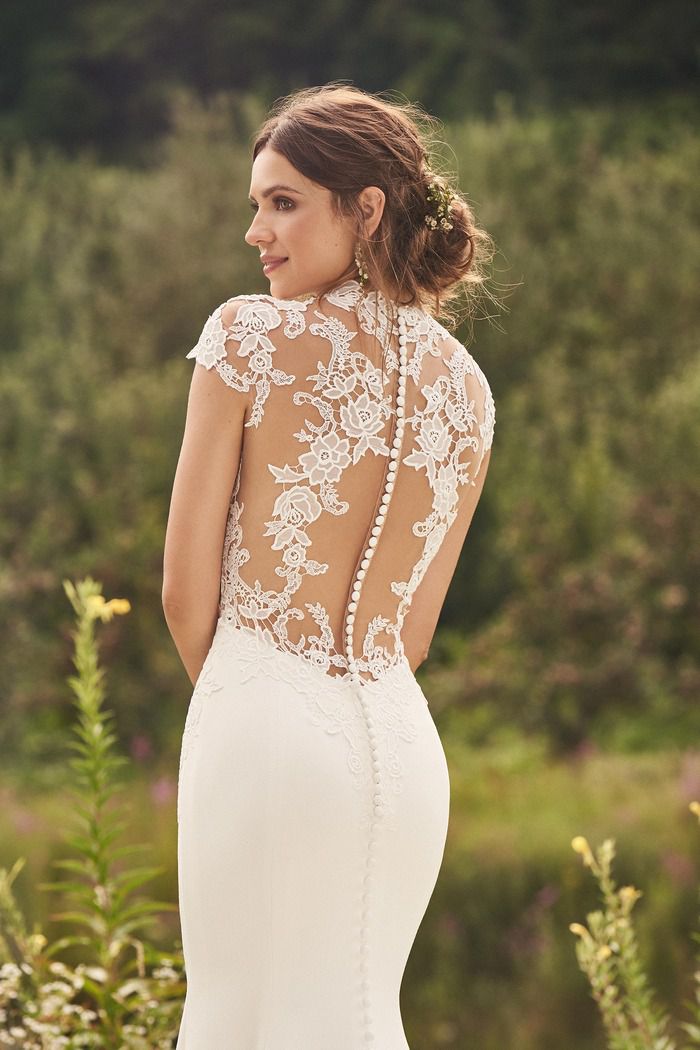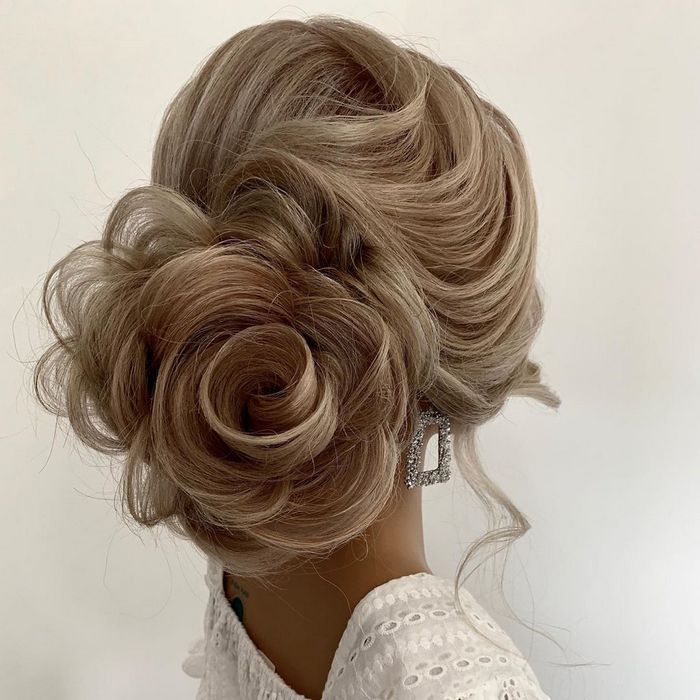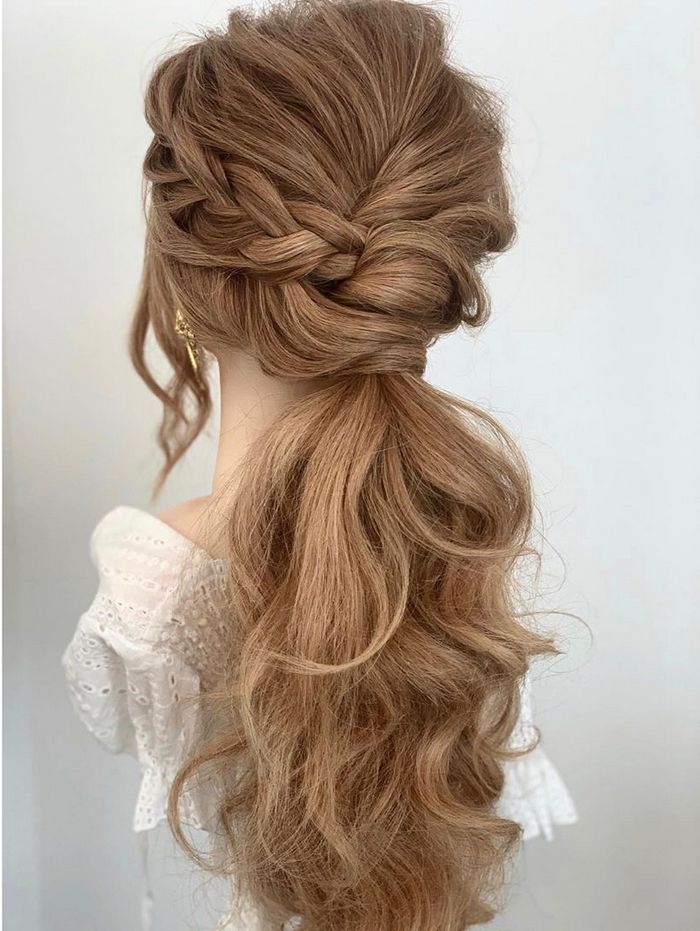 SCOOP NECK
I always think scoop necks have such a romantic, classic look. My choice of hairstyle for this neckline would be a soft, textured updo, a classic chignon or a pretty half-up style.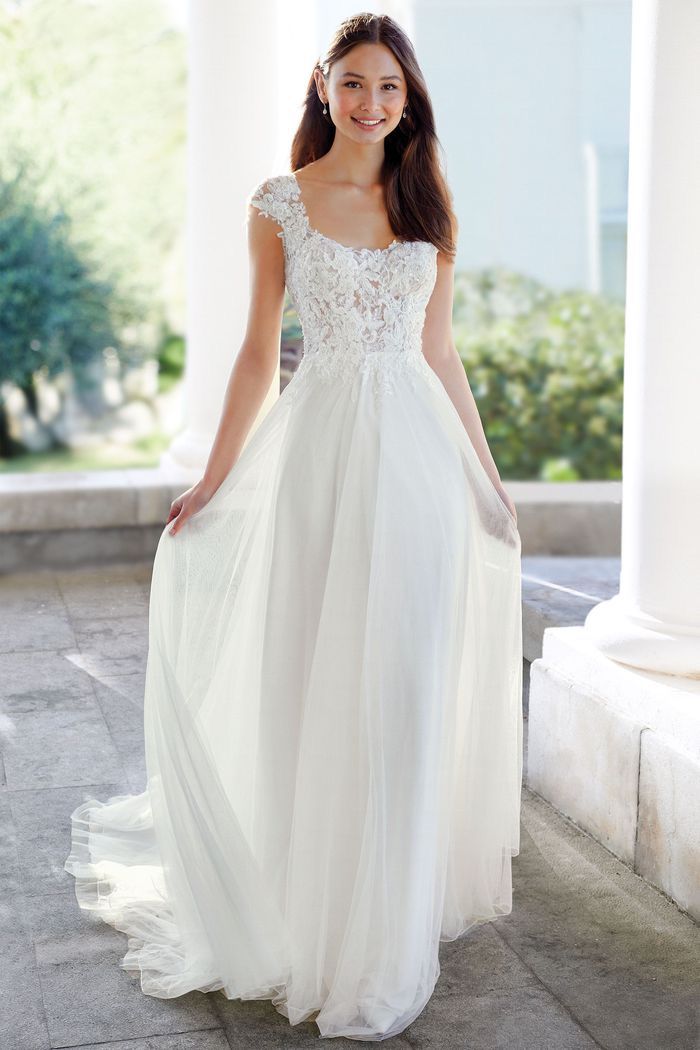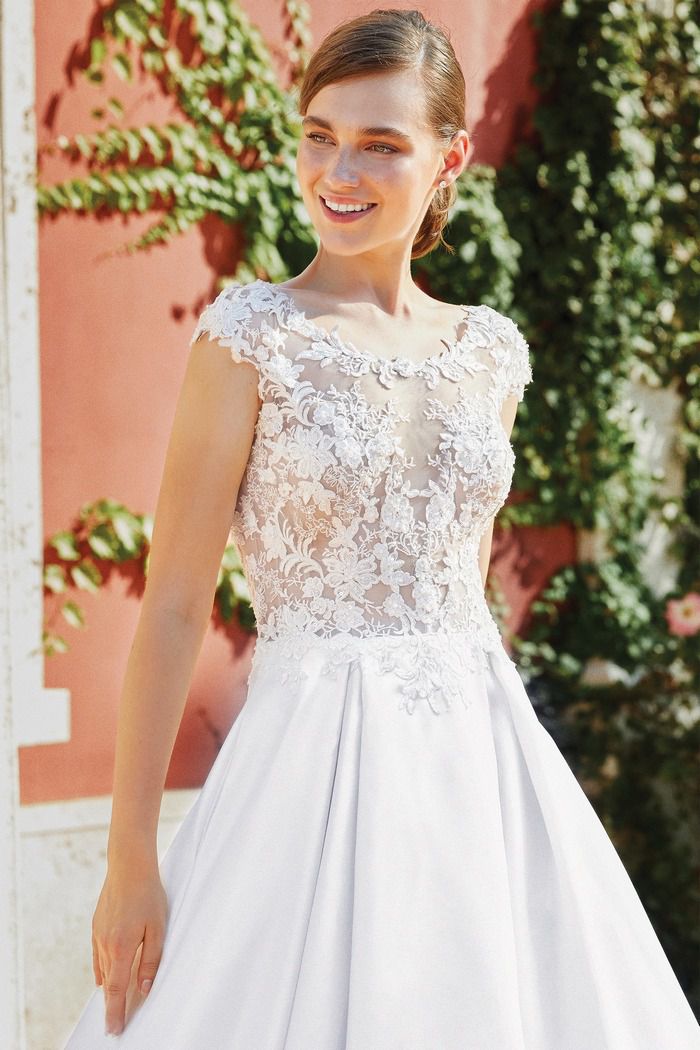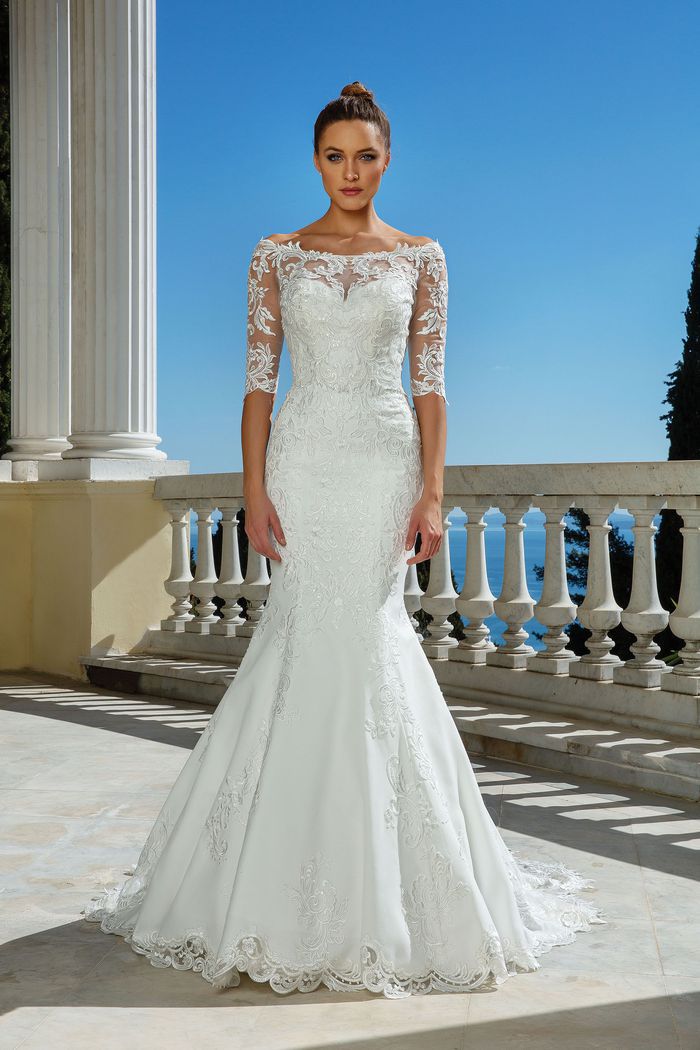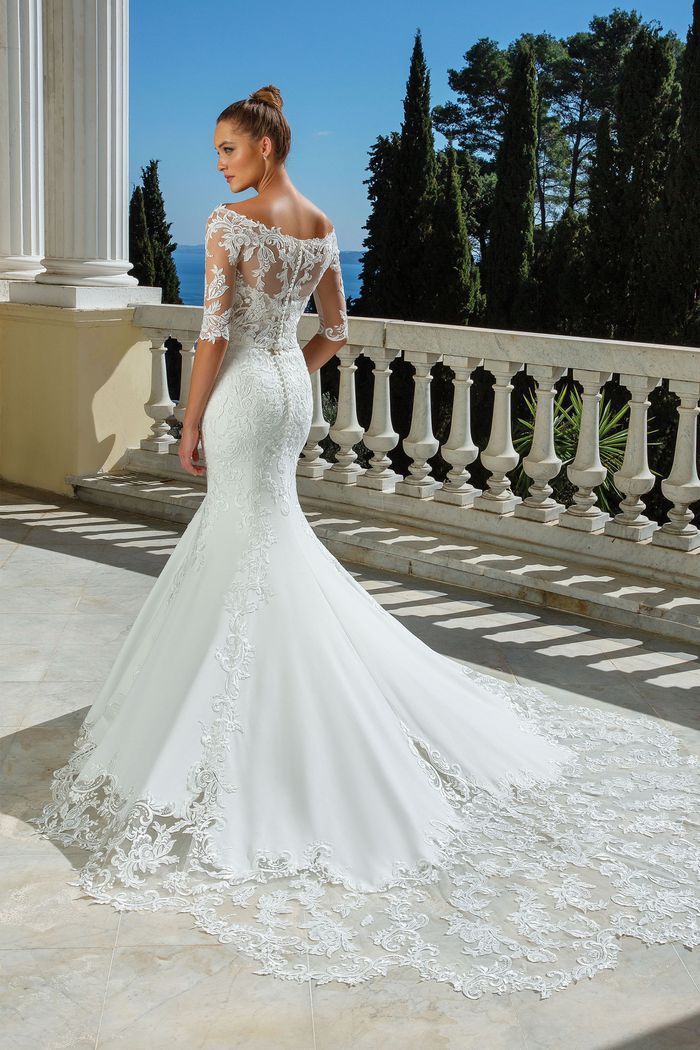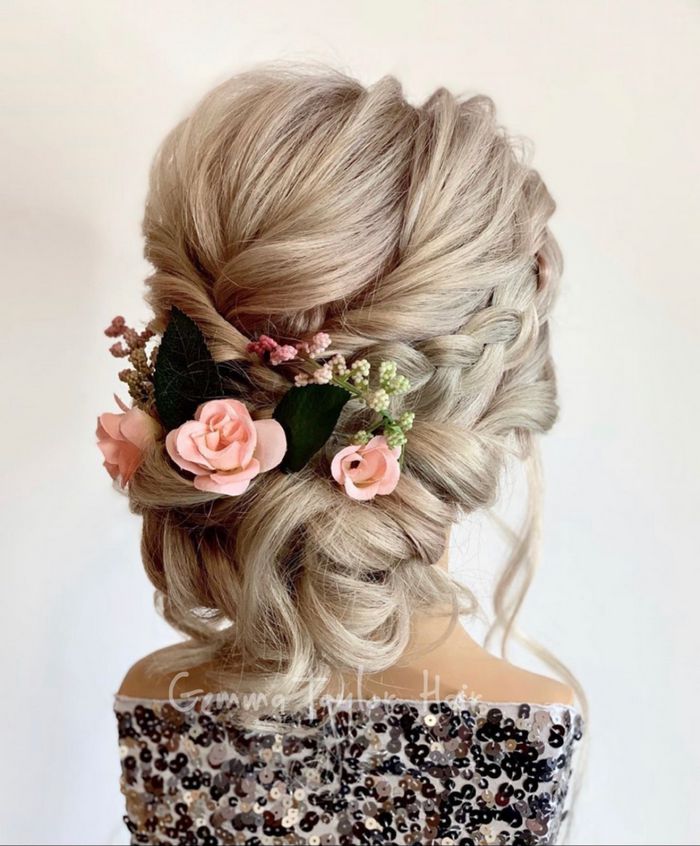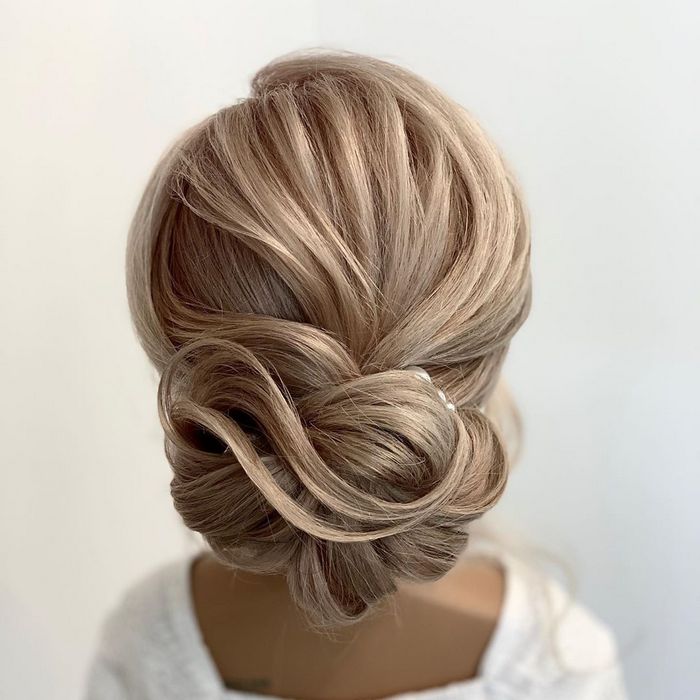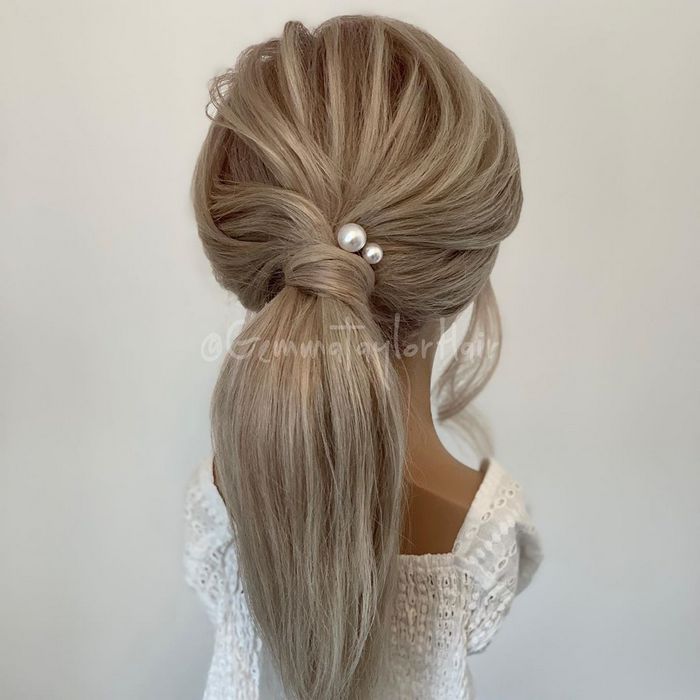 For every dress style, another important factor to consider is the silhouette. For example a mermaid style with a super-pouffie bottom will be balanced out with some voluminous hair as opposed to a sleek chignon… Also consider your venue and overall vibe for your day: are you a castle bride who wants to rock an elaborate updo fit for a princess, or are you having a romantic barn wedding, with effortless tumbling waves and a bouquet of meadow flowers..? The options are endless.
Now, start collecting pictures of styles you love- Instagram and Pinterest are a bride-to-be's best friend! Bring your inspo photos, along with some photos of your dress (preferably with you in it) and any inspo pics you have of your flowers, venue décor etc. This helps your stylist visualise what your wedding vibe is, so we can give you your bridal hairstyle of dreams!
Happy Planning!
Gemma xx
Gemma, thank you very much for taking the time to share your styling tips and expert advice- we love your fabulous work. You really have given our Midnight Elegance brides a lot to think about ahead of their big day.
We truly hope you enjoyed our first guest blog as much as we did. Follow Gemma and her amazing work on Instagram: @gemmataylorhair for more hairstyle inspo and to make a start on that all important picture board! All images above are sourced from our wonderful designer, Justin Alexander. Stay safe, healthy and positive.
Kathy and the Midnight Elegance Team x