Veils are the silver thread that tie a wedding together – your gorgeous gown, your bridal hair and even your dream venue.
Your veil will add a bespoke finish to your bridal look, and can, in fact, totally transform you. With so many options available, though, finding the perfect veil can be a tricky and daunting task.
The first step? Finding the perfect veil length for you. First think practical (the length and style of your gown, and how you plan to wear your hair) then think about what you want.
Perhaps you picked your venue for its killer staircase, crying out for a dramatic veil photoshoot? Dreamed of flower girls daintily lifting your long, flowing veil as walk down the aisle? Or maybe you're channelling a more informal, vintage veil vibe?
Whatever your intended style, there's a veil length for you. Just think about the practicalities, find your bridal vibe in the list below and read on to discover your veil options.
The short selection
1940's-inspired vintage
The birdcage veil, formally known as a veleta veil, looks incredible with lace embellished gowns. Made of delicate net, lace or tulle, you'd have it fixed in place with a delicate clip or small comb so it brushes the tip of your nose or rest just below your jawline.
Traditional elegance
The blusher veil measures between 45 and 70cm, and either elegantly brushes the lip line or falls to where your bouquet rests. Deep-rooted in wedding tradition, the name comes from the part of the veil that keeps your face hidden during the ceremony – until the kiss, of course. After that, it'd be pushed back to sit on your head.
Retro charm
Perfect for short-haired brides, the flyaway veil is short and floaty with tiers of tulle that'll brush your shoulders. At around 90cm it's fixed to your head with a comb and sometimes has a lace-embellished edging for that 'je ne sais quoi'.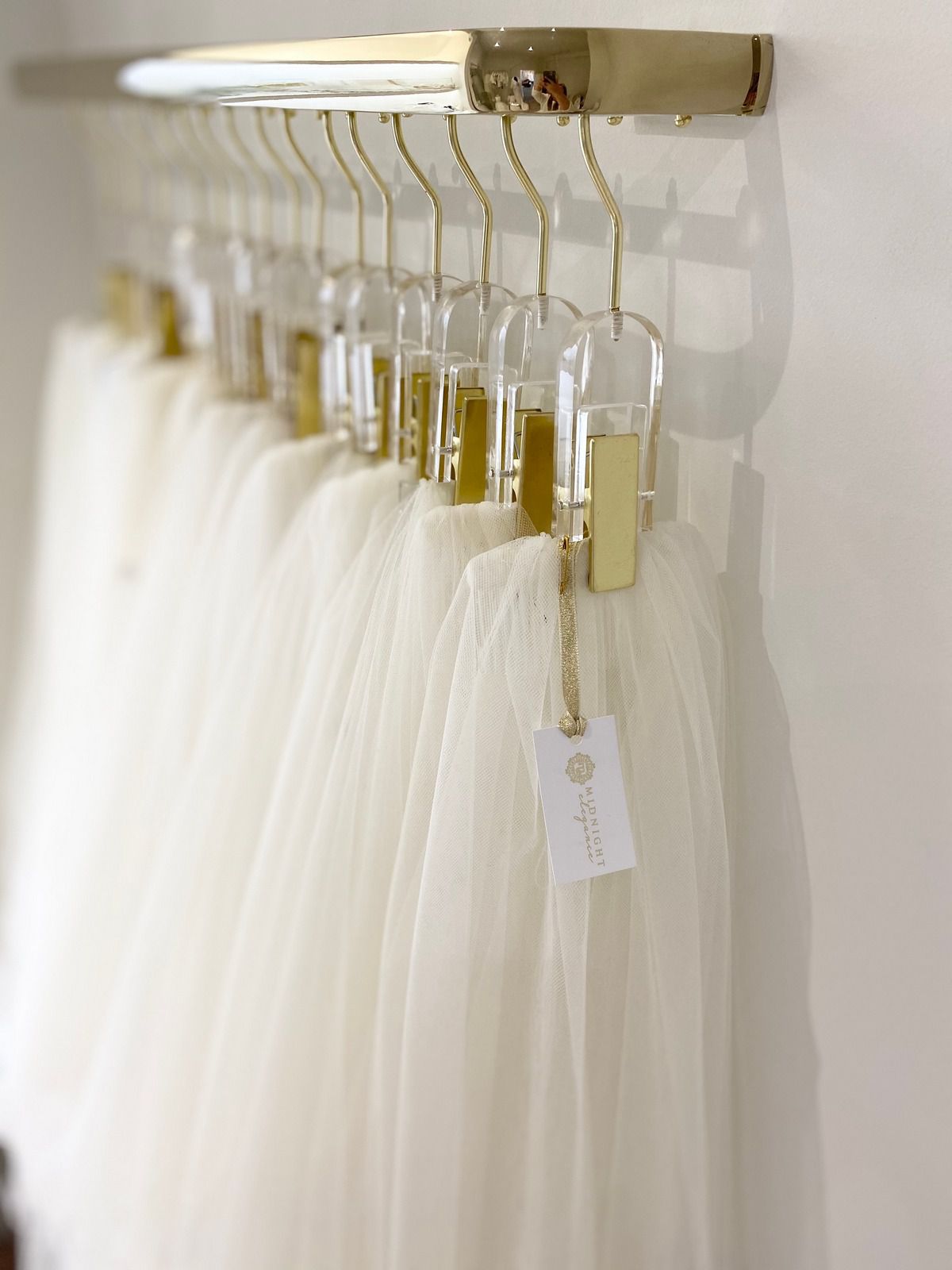 The medium-length veils
All about the gown
If you want all eyes on your gown, the 115cm shoulder-length veil is perfect. It falls just above the elbow, covering the shoulders, and can incorporate a blusher (see above) to achieve a fuller look. A perfect all-rounder, the shoulder-length veil will work with lots of dress styles and lengths.
Bespoke
A classic and sophisticated option, brides often personalise a waist-length veil with beadwork or embroidered lace borders – perfect if you've got a specific look in mind and can't quite find the veil to fit. As the name suggests, it'll reach your waistline. And it's beautiful with a mermaid dress or ballgown because the veil ends just as the fullness of your skirt begins.
Turning heads from behind
A fingertip veil (which will come right to your fingertips when your arms are extended) is flattering for all body types and works with most styles of wedding dress. That said, teamed with a blusher (see above) a fingertip veil is perfect for gowns with a dramatic or embellished back. The detail will be easily seen through the sheer, semi-translucent fabric… Swoon!
An elegant dancing queen
Cascading past your hips, a knee-length veil has the length but is also super-practical for dancing all night long. Typically embellished with tulle, the exact length can be altered and . If you've gone for a sophisticated gown with beautiful bodice detail and intricate beadwork, this is the veil for you.
The longest of them all
Good, old-fashioned romance
For a truly breathtaking look, a floor-length veil works best with trainless gowns of a similar length – think ballgowns and A-line dresses. It'll add an element of formality and grace whilst still being fairly easy-to-wear – there's just a small, trailing edge.
The perfect fairytale
At 274cm long and creating the illusion of a train, the chapel veil absolutely has the wow-factor. Formal and feminine, it's super-stunning when paired with a blusher (see above) – hello princess!
All about the statement veil
The longest out there, the cathedral veil comes in at 366cm. The most formal of all, you can enhance the drama even more with a strong gown. Accessorise with a robust hairstyle (to support the weight of this magnificent veil!) and an entourage of flower girls and page boys for assistance.